He wouldn't quit until she had confessed #TeaserTuesday #contemporaryromance #MFRWauthor
Happy Tuesday!  I'm kicking off this short holiday week with a teaser from my holiday book, One Week to Win Her Boss. Amber's been caught on Christmas Eve hiding away in her boss's private ski lodge, and he's determined to find out why: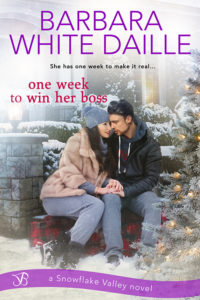 The laughter died in her throat. Suddenly needing support, she rested one hip against the kitchen island. Avoiding Michael's eyes, she smoothed the edges of the woven placemats she had stacked there. "The plain and simple truth is, the electricity in my apartment was turned off."
"Because…"
No, he wouldn't quit until she had confessed all. "Because I couldn't pay my bill."
"That doesn't happen to first-time offenders."
She flinched. He thought she was a criminal? Or maybe she was being too sensitive. She raised her chin and met his gaze. "It wasn't the first time," she admitted. "But the other times, I was able to make payments in the grace period, and they never shut off the service."
"What happened this time?"
His suddenly softer tone made her wince. She didn't want pity. But maybe she was overreacting again. It wasn't like she didn't hear questions from anyone else. Her family had plenty of them, too, especially when she got herself caught in a dilemma and they wanted to help her out.
Except maybe her instincts were on-target. Maybe his concern came from something more—from the thought she wasn't an employee he could trust.
For more info and/or to order the book:
Entangled     Amazon
Amazon Australia     Amazon UK
Amazon Canada
Barnes & Noble
Apple iBooks     Kobo