The Cowboy's Little Surprise
The Hitching Post Hotel, Book One
April 2015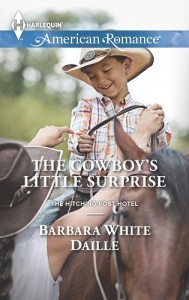 Amazon  Barnes & Noble  Books-a-Million
Harlequin  Kobo  IndieBound 
The Long Way Home
A guy like Cole Slater is hard to forget. Tina Sanchez should know—for years since high school she's tried to bury the pain of Cole's cruel betrayal. But it's impossible to ignore the man she sees reflected in her young son's eyes now that Cole is back in her life—and about to meet the child he never knew he had.
Returning home to New Mexico, Cole is determined to put his playboy reputation to rest. Especially now that he knows there's a little boy looking up to him. And seeing Tina again reignites all the feelings Cole ran from as a teen. Despite his fear that he can't be the man Tina deserves, he's determined to try. For his son's sake—and his own.
Excerpt:
When Cole approached the counter, Tina hid her dismay behind a frozen smile. Any second now, Robbie might come down the hall.
The minute she had seen Cole in the lobby, she had thought of what Jed had said. Her abuelo had been on edge for weeks, but Cole's arrival couldn't be the surprise he had referred to.
She couldn't forget what Cole had told her the other day. Jed had invited him to the ranch and then hired him again. It was odd Jed hadn't said a word about that to her beforehand. As the bookkeeper, she should have been told about a new hire. Maybe he had intended to spring Cole's return on her, after all.
Unfortunately, his secret would pale by comparison once he learned about hers.
She couldn't let the impending disaster make her forget her obligations—no matter how eagerly she wanted to run to the kitchen, grab Robbie, and head for the hills. She took a deep breath and said, "Welcome back to the Hitching Post."
"Thanks. Are you managing the place now?"
"I'm the assistant manager. And bookkeeper for both the Hitching Post and the ranch."
"Bookkeeper, huh? That fits. You always were good at math."
"What can we do for you? I know you can't be looking for a room."
"Why not?"
Her fingers tightened, crumpling the long-forgotten brochure she still held. "You're staying with Layne at her new apartment, aren't you?"
"How did you know that?"
"It's a small town."
"Yeah." For a moment, he looked irritated. "And speaking of small, that describes Layne's couch. Now you mention it, the idea of taking a room here doesn't sound bad at all. It would get me off the hook for minding Scott, too." He laughed and shook his head. "And before you take me too seriously, I'm just kidding about that. But let me tell you, babysitting is not the gig for me. When I swore off marriage and kids, I should have added extended family to the list."
The statement hit her like a fist to the chest. "You don't mean that. And you wouldn't say it if you'd never had a sister or brother." Or if you already had a child.
Would learning about Robbie make any difference?
~~~
From Melissa at Joyfully Reviewed:
"Cole Slater had cruelly rejected Tina Sanchez and then left town. She never had the chance to tell him that she was pregnant so now that's he returned home, she's faced with the difficult task of telling him about their son. Cole wants Tina's forgiveness for the past but once he learns about their son he is determined to be a better parent than his. Can he and Tina make a family together?
"Harlequin was the first type of romance I ever read and I still love them to this day.  The Cowboy's Little Surprise is a wonderful example why! Barbara White Daille deftly handles how the past affects the decisions we make while building a future for Cole and Tina. Pick this one up for a quick read that will leave you with that feel good feeling!"