Happy Mother's Day! My sincere admiration and appreciation go out to all the mothers, grandmothers, and other women who fill the very special nurturer role in anyone's life.
This week, in honor of the holiday, I'm participating in a Book Fair with 20+ authors. As my book, The Cowboy's Triple Surprise, is featured in the Fair, I'm including a Sunday Snippet from the story.
This book is part of the Hitching Post Hotel series (all stand-alone books with their own happy-ever-afters).  We're with the heroine, Shay, who is soon going to be giving birth to multiples!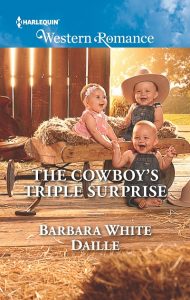 Shay sighed. "I'm just dreading having to walk back into that hotel and see Tyler again. Or having to face any of the Garlands. Everyone else in Cowboy Creek must know the situation, too. What did I think?" she added, rolling her eyes. "That I could hide my head in the sand like an ostrich, and they wouldn't figure out the timing as soon as they saw my stomach getting bigger?"
Layne smothered a laugh. "Sorry. That's some visual. But if hiding the truth was your goal, I'm afraid you can forget it. Take it from a mom twice over. Nobody around here messes up the math on a pregnancy." Sobering, she added, "I know you don't want to tell Tyler the news, Shay. But you should think about it. Before someone else does."
You can find out more about the book at any of these locations:
Amazon   Barnes & Noble   Books-A-Million
Harlequin   IndieBound   Kobo
And to check out the Book Fair, click here or on the image below!