Reviews
One Week to Win Her Boss (Snowflake Valley)
"It would not be Christmas without a nice heartwarming holiday novel from Barbara White Daille! Very enjoyable!"
– Cathy S., NetGalley
"One Week To Win Her Boss is a splendid holiday romance by Barbara White Daille. Ms. Daille has delivered a well-written book packed full of amazing, lovable characters. The story is heartwarming and has plenty of drama, humor and spice to keep the pages flying."
– Deb D., Goodreads
"Heartwarming and charming in every way! It all of a sudden feels like the holidays with this book!"
– Erika C., NetGalley
"A sweet Christmas story in a quaint small town. The two main characters, one full of Christmas joy and the other a total Scrooge, come together on a spur of the moment decision. The story is full of family and small town seasonal festivities."
– Kirstie I., Goodreads
"I love Snowflake Valley! Small town charm at its best!"
– Vivian P., NetGalley
Snowbound with Mr. Wrong (Snowflake Valley)
"There is a reason Ms. White Daille's novels are on my list of must read books and this novel is a prime example. Treat yourself to an early present; pick up a copy of SNOWBOUND WITH MR. WRONG today and lose yourself in a story that is sure to lift your spirits and leave you smiling."
– Romance Junkies
Cowboy in Charge (The Hitching Post Hotel #4)
"Jason and Layne work through their issues with deliberate patience and hard-won maturity, and the journey is a compelling one. Their longing for each other is undeniable, their deep remorse and newfound optimism irresistible. Daille wisely lightens the sentiment-heavy scenes with frequent bits of humor and adorable kid moments. …Check out Cowboy in Charge — it's a charming and intelligent romance that will do your heart good."
– USA TODAY/Happy Ever After
"Cowboy in Charge excels in character growth."
– RT Book Reviews
"…contemporary romance with a down home warmth that leaves the reader feeling good… I hated arriving at the last page and being forced to once more leave Ms. Daille's fictional town and the wonderful people who reside there."
– Romance Junkies
"…I couldn't put it down."
– Amazon reviewer
The Lawman's Christmas Proposal (The Hitching Post Hotel #3)
"[Daille] deftly offsets tension and drama with the antics of an interfering family, and builds to a happy ever after that resonates with healing and hope. "Say 'I do' to The Lawman's Christmas Proposal — you'll be so very glad you did."
– USA TODAY/Happy Ever After
"To get her matchmaking grandfather off her back, Andi and Mitch pretend they are engaged just for the holidays. Will Mitch convince Andi to turn their faux engagement into a real one? Daille crafts a beautiful love story with a steadfast hero and a conflicted heroine who wants love on her own terms. There's great relationship development in this warm holiday read."
– RT Book Reviews
"Barbara White Daille does a fabulous job of entertaining for any season with THE LAWMAN'S CHRISTMAS PROPOSAL which is relevant all year round."
– Fresh Fiction
"The plot is believable and realistic, which I have to admit brought out the tissues at points…The Lawman's Christmas Proposal isn't so much about the proposal but more about the love that can overcome all."
– Harlequin Junkie
A Rancher of Her Own (The Hitching Post Hotel #2)
"The second in The Hitching Post Hotel miniseries has Grandpa Jed once again exercising his matchmaking skills. This time, he's going to need some help with this stubborn pair. This slow-burning romance with an antagonistic edge addresses love, loss and learning to forgive."
– 4 stars – RT Book Reviews
"The second Hitching Post Hotel contemporary is an enjoyable ranch romance starring leads who expect their shaky relationship to fail before it can truly begin; as love is not enough.  Grandpa Jed and his young posse bring enchantment to the storyline."
– Genre Go Round Reviews
"A heartwarming tale, A RANCHER OF HER OWN, the second book in author Barbara White Daille's THE HITCHING POST HOTEL series, is an emotion-packed, sexy contemporary romance, which is sure to touch the hearts of its readers.
"As a huge fan of Ms. Daille's inspiring, heartwarming novels, I always look forward to her next book. I have never been disappointed by any of her works and this one is no exception as she takes readers from heartache to joy in a small town setting with all the risks, tears and laughter along the way. This story demonstrates once more why Ms. Daille is one of my favorite authors. Do yourself a favor and pick up a copy today! Definitely a must read!"
– Dottie, Romance Junkies
~~~
The Cowboy's Little Surprise (The Hitching Post Hotel #1)
"Harlequin was the first type of romance I ever read and I still love them to this day.  The Cowboy's Little Surprise is a wonderful example why! Barbara White Daille deftly handles how the past affects the decisions we make while building a future for Cole and Tina. Pick this one up for a quick read that will leave you with that feel good feeling!"
– Melissa, Joyfully Reviewed
"Set in the small town of Cowboy Creek and featuring Jedediah Garland's family of granddaughters, The Hitching Post Hotel series has started off with a winner, THE COWBOY'S LITTLE SURPRISE. This first book is about Jed's youngest granddaughter, Tina, as she becomes reacquainted with her teenage crush and the father of her son. Readers can always count on the story-telling talent of Barbara White Daille as she creates heartwarming tales centered around family, romance and happily-ever-afters."
– Donna, CataRomance
"A heartwarming tale, THE COWBOY'S LITTLE SURPRISE, the latest book by author Barbara White Daille, is a charming contemporary romance with plenty of hometown warmth. Tina and Cole have been vulnerable in the past and each had their way of dealing with it, but they have grown up during their years apart. Perhaps, this is their chance to get it right, or perhaps, they are no longer right for each other. Will little Robbie make a difference in their relationship? There is only one way to find out – pick up a copy and lose yourself in this delightful novel."
– Dottie, Romance Junkies
~~~
"Why you should read it: Barbara White Daille writes soul-stirring, heartwarming, how will they ever work it out? romance that's as feel-good as it can get. Twice now she's been selected as an RT Book Reviews Top Pick, and for good reason — this author really knows her way around a happy ever after. The Texan's Little Secret centers on Luke's pride and Carly's secret pain and how, despite the bitter feelings they never resolved, they earn a second chance at a happy ending….you'll ache right along with these characters as they deal with each other, their past hurts, and their complicated families. Daille's latest is a bittersweet, gratifying romance about family, forgiveness, and finding where you belong."
– USA TODAY/Happy Ever After
"Award-winning author Barbara White Daille introduces us to sexy cowboy Luke Nobel and fiery tempered Carly Baron… First love often has barriers and misunderstandings to overcome and that is exactly what happened to Carly and Luke. Years later, the barriers are ready to come down and hopefully the misunderstandings will be explained so that love can flourish again. Readers can't help but enjoy Barbara White Daille's creative talent as she writes a well earned 'happily ever after' for Luke, Carly and little Rosie.
– Donna, CataRomance
"…two young people searching for a second chance at love after previously walking away. Barbara White Daille always delivers an exciting and fulfilling story to cuddle up with."
– Fresh Fiction
"Once more, author Barbara White Daille has penned a winner. Her books never disappoint and this one is no exception. I was quickly drawn into the story, reading it in just one sitting. The chemistry between Luke and Carly is undeniable, and the scenes with Luke and Rosie are sure to touch hearts. … this feel-good story is unforgettable."
– Dottie, Romance Junkies
"…I could relate to Luke and to Carly. There are always two sides to a story. I think we can all relate to mistakes in our youth. That is part of the appeal of the second chance at love theme. When two people who were meant to be together beat the odds stacked against them, it's always a feel good story.
"If you like contemporary romance with a western tone, second chance love stories, and [of] secrets…this one is for you."
– Long and Short Reviews
~~~
"This author has done an exceptional job of portraying the obstacles that must be overcome by a person with deafness. This will truly open up your views on someone with a disability, as they are certainly in no way less responsible or capable than those without. …  The tale is beautiful, heartwarming and guaranteed to stay with you for a long time."
– Fresh Fiction
"As the hero learns to accept not only the heroine's limitations, but her ability to cope, their story beautifully illustrates the difficulty of being deaf in a hearing world."
– 4 stars – RT Book Reviews
Brimming with grief, tragedy, disability, romance, love and fresh starts, this is a story that you do not want to miss. … As a fan of Ms. Daille's novels, I highly recommend this story. … Do yourself a favor and pick up a copy of RANCHER AT RISK.
– 5 Blue Ribbons – Dottie, Romance Junkies
"Award winning author Barbara White Daille gifts her readers with another sigh-worthy romance, RANCHER AT RISK, set in familiar Flagman's Folly, New Mexico. Characters Ryan and Lianne are not picture perfect, in fact Lianne's hearing disability and Ryan's tragic loss add human qualities that readers can easily empathize with. A lovely heart-warming story about love, second chances and meeting life's challenges; RANCHER AT RISK by talented Barbara White Daille is sure to delight."
– Donna, CataRomance
"I enjoyed reading this sweet romance with a western touch. I could relate to Lianne because I hate being controlled or having someone following me around all the time. I can also understand how hard it is to open your heart when death has slammed the door in the past. Ms. Daille does a nice job of showing the heartbreak and emphasizing the difference the right relationship can make for you. Why not settle in a comfortable chair and give this romance a read yourself?"
Nominated for book of the month – 5 Stars – Long and Short Reviews
~~~
Honorable Rancher "Why you should read it: Daille packs an incredible amount of story into 200 pages—story, emotion and heart….Daille's prose is as vibrant as her storytelling…. Honorable Rancher is a sweet and engaging small-town story set in close-knit Flagman's Folly, N.M. The town is well worth the visit, but the romance will make you wish you could linger."
– Kathy, USA TODAY/Happy Ever After
"If you like small town settings, sexy cowboys and are a fan of second chance romances then Honorable Rancher is definitely a must read."
– 4 stars – Harlequin Junkie
"…a heartwarming, emotion-packed contemporary romance that you will not want to put down…  Infused with sexual tension, believable dialogue, family dynamics, small town life, secrets, humor, appealing characters, love and second chances, this story is a winner. … do not miss HONORABLE RANCHER!
– 4.5 Blue Ribbons – Dottie, Romance Junkies
"Intriguing dialogue, likeable characters and true-to-life storyline make HONORABLE RANCHER by talented Barbara White Daille a
– Donna, CataRomance
"Any time a story makes me reflect on my own personal life, I consider it a winner and Barbara White Daille definitely has a winner with Honorable Rancher."
– Long and Short Reviews
~~~
Book Buyers Best Finalist
"Daille has painted a wonderful story of two wounded souls trying to find their way back to each other."
– 4 stars – RT Book Reviews
"Beautifully written, packed with engaging characters in a small town many would like to call their own, family dynamics, realistic dialogue, an intriguing plot, humor, misunderstandings, romance and second chances, this story is a definite keeper. Just seeing Ms. Daille's name on a book is a reason for me to want to read it."
– 4.5 Blue Ribbons – Dottie, Romance Junkies
 "American Romance author Barbara White Daille knows how to capture the reader with an absorbing story of regrets and second chances…  Snuggle up in your comfy chair and read a good book, THE RODEO MAN'S DAUGHTER by mega talented Barbara White Daille." – 4.5 stars – Donna, Cata Romance "If you enjoy emotionally charged, second chance at romance stories, you will enjoy The Rodeo Man's Daughter."
– DiDi, Guilty Pleasures Book Reviews
~~~
A Rancher's Pride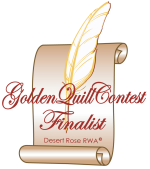 "…an emotional roller coaster of a story with strong characters."
 – 4 1/2 stars TOP PICK – RT Book Reviews
"Award-winning author Barbara White Daille pens an engaging romance, A RANCHER'S PRIDE.  This love story, involving a young child meeting her father for the first time and the concern of the adult characters wanting what is best for her, tugs at the heart….A beautiful book, A RANCHER'S PRIDE, by talented writer Barbara White Daille."
– 4.5 stars – Donna, CataRomance
"This is a heartwarming tale about the importance of communication between people in any relationship. The story is an extraordinary narrative incorporating sign language enabling Becky to speak her mind and dialog with those around her. Instead of making Becky silent — White Daille gave her a voice, and what a voice she had. Reminiscent of Catherine Anderson and Deborah Smith who often give special people great voices — Barbara White Daille can add me to her fans."
– Sandra, Fresh Fiction
"A beautifully written story packed with love, conflict, charismatic characters and an intriguing plot, this is a story you will want to read more than once. Talented author Barbara White Daille reaches for the heart and touches it in A RANCHER'S PRIDE! Do not miss it!"
– 4.5 blue ribbons – Dottie, Romance Junkies
"I LOVED THIS BOOK.  I can recommend it without reservation.  I give this book a rating of:  5 HEARTS  … GO.  BUY A RANCHER'S PRIDE! Today!"
– Cynthia, Everybody Loves A Little Romance
"This is a fabulous family drama as the aunt and the dad fight for custody over his child who turns into the matchmaker. The characters are fully developed with flaws like obstinacy as each learns how irresponsible Ronnie is. Though the solution is obvious as this is a romance, fans will enjoy the trip getting there as a precocious little girl turns Flagman's Folly into the land of Enchantment.
– 5 stars – Harriet Klausner, Amazon review
"A RANCHER'S PRIDE is a feel good story that made my heart hurt just a little but smile a lot. Likeable characters hook the reader into a steady-moving story. I recommend it to anyone who loves a sweet love story."
– 4 stars – Rebecca, The Romance Review
"Ms. Daille has a lovely voice for contemporary romance. Her characters are not perfect which makes them all the more realistic. Her plots are well built and the book transitions smoothly from beginning to end….You'll want to pick up a copy of A Rancher's Pride. "
– 3.5 books – The Long and the Short of It Reviews
~~~
Family Matters  "Rapier wit, good hearted interference on all sides and eccentric characters make Daille's entry a first-class romantic read."
 – 4 1/2 stars TOP PICK – RT Book Reviews
RT Book Reviews Reviewers' Choice Award Nominee
"Talented author Barbara White Daille blends several scenarios with the ups and downs, twists and turns of a roller coaster, entertaining her readers with smooth flowing dialog.  I guarantee FAMILY MATTERS will be devoured in one sitting and thoroughly enjoyed by all. "
– 4.5 stars – CataRomance
  "Delightfully enriched with humor, well-drawn, charismatic characters, a wonderful plot and loads of love, this story will touch your heart.  I look forward to reading more by this very talented author."
– 4.0 blue ribbons –Romance Junkies
"With one of the most endearing cast of characters I've read in some time, author Barbara White Daille enchanted me from the first page.   …  If you love a quirky ensemble cast, if you want your romance sweet instead of hot, but still absolutely heart-melting, and if you love a happy ever after that makes you sigh, then I recommend you give Family Matters a try."
– 4 books – The Long and the Short of It Reviews
~~~
Court Me, Cowboy "…laugh out loud funny and charming. …a book you won't be able to put down."
  – 4.5 blue ribbons –Romance Junkies
"Barbara White Daille has again crafted characters you will love to love."
  – Romance Book Café
~~~
The Sheriff's Son "Brand new author Barbara White Daille will soon be on your list of "must have" with The Sheriff's Son as an example of her attention grabbing stories."
  – 4 stars – CataRomance
"…a fun family-oriented story that I truly enjoyed."
 – 4.5 blue ribbons – Romance Junkies
"…a sweetly told small-town romance.  …a feel-good read that will entertain."
 – Romantic Times BOOKreviews
"Barbara White Daille has written a Texas style romance that sizzles with Texas style heat. "
 – Romance Book Café
"Barbara White Daille's first novel, The Sheriff's Son, is a charmer of a read, filled with complex, heartwarming characters who come to life in a lovely small-town atmosphere.  The lively secondary characters are a delight, adding depth and texture to the story.  Barbara White Daille is a sparkling new talent to watch!"
 – Marta Perry, Award-winning Romance Author
~~~~
  "Attention Readers, Mark your calendars so you don't miss picking up Barbara White Daille's upcoming Harlequin American Romances. I highly recommend her stories filled with warm, wonderful characters we'd all love to have as friends, neighbors, lovers."
 – Roz Denny Fox, Award-winning Author