Hope your week got off to a great start! I was offline for a bit, doing one of my least favorite things – spending time at the computer store with a sick laptop. 🙁 All is better now, but please keep your fingers crossed for added insurance.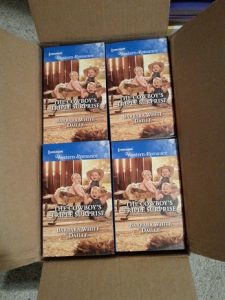 This Teaser Tuesday from The Cowboy's Triple Surprise is the third excerpt in a row here at the blog. You can find the first and second posts here, or just hit the back arrow at the top of this post.
Here's today's teaser:
Shay put her hands on the counter in front of her and stared at Tyler. "Don't tell me they've sent you here from the Hitching Post for ice cream." She fought to keep her voice steady. "I happen to know what's on the menu for the reception tonight, and everything's covered."
"Nobody sent me here. But everyone's all tied up, and I had time on my hands."
"Really? You didn't have Jed to talk to?"
"He said he'd be busy all night at the reception."
She frowned. "That's strange. He always makes an appearance, but he's never stayed the entire time, except at his granddaughters' weddings. Well…if he's busy, you've got plenty of cowhands to hang out with."
"Maybe I had the urge for dessert."
"Then you'll find more of a selection at SugarPie's."
"Could be. But maybe what I want's right here."
~ ~ ~
Readers – thank you for helping to make The Cowboy's Triple Surprise an Amazon bestseller! For those who haven't checked out the book yet, you can find more info at any of your favorite booksellers.
Amazon   Barnes & Noble   Books-A-Million
Harlequin   IndieBound   Kobo