Your Teaser Tuesday is from my latest Entangled Bliss, One Week to Win Her Boss.  This follows immediately after Sunday's Snippet, which you can read first by hitting the "back" button for the previous post at the top of your screen.
Amber shoved her hand into the pocket of the robe. "I'll stay far away," she promised again. "You won't hear a peep out of me."
At that moment, as if on cue, Penny let out her usual I'm-ready-to-eat screech. Michael's suddenly blank expression proved he had heard the baby, too, and wasn't pleased. But wait—there's more. Penny's hunger cries were loud enough. How would he handle her being colicky?
"What was that?" he demanded.
"Uh…not what. Who. My daughter." Michael had never met Penny. In fact, he hadn't even known about Amber's pregnancy until she was so far along he couldn't miss the baby bump.
"Ah," he said. "When it comes to not making a peep, it doesn't look like you were speaking for your daughter."
She smiled sheepishly. "Sometimes she likes to speak for herself."
He shook his head, but his mouth curved up at one corner. He was fighting a smile. Even in the midst of this disaster, even with the recent reminder that she couldn't and shouldn't trust her judgment around men, that half-smile was enough to make her melt.
So not good. But the thought of having him upset with her had been more than her stressed-out, worried, and exhausted mind could handle.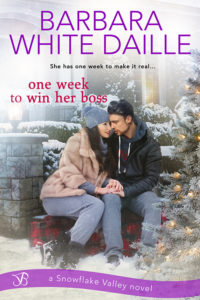 To find out more about the book and/or to order a copy, check your favorite etailers:
Entangled     Amazon
Amazon Australia     Amazon UK
Amazon Canada
Barnes & Noble
Apple iBooks     Kobo