Today's Snippet Sunday comes from my latest Entangled Bliss, One Week to Win Her Boss.  Amber's staying at her boss's lodge without his permission, and when he shows up unannounced she's both dismayed and distracted:
"I'll keep out of your way," she promised.
One dark eyebrow rose as he stared her down. "Somehow, I don't see that leading to the peace and quiet—and solitude—I was looking for."
"No worries. Hand to heart." She rested her palm against her chest. The fuzzy robe tickled her fingers. When his gaze followed her movement, she froze. Had she just seen a spark of interest in his eyes?
Right. More like a vision from her own pitiful wishful thinking.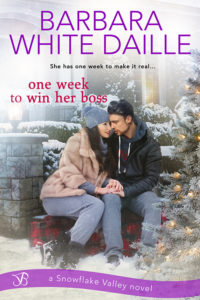 Entangled     Amazon
Amazon Australia     Amazon UK
Amazon Canada
Barnes & Noble
Apple iBooks     Kobo