This Teaser Tuesday from One Week to Win Her Boss picks up from last week's Teaser Tuesday and Snippet Sunday:
Penny let out her feed-me-now screech. Guaranteed, one of those cries could send a zombie scrambling back into his grave.
This time, Michael winced.
"I should go get her." Amber edged toward the living room. "She needs to be fed."
Another screech.
He nodded. "I think she's voted yes on that." He backed a step. "Guess I'll go and unpack."
"Sounds good." Good? No, it sounded more like Michael had decided to get out of range of Penny. And maybe of her, too?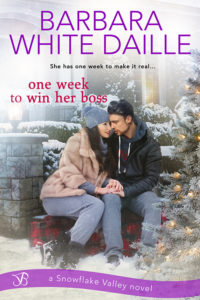 For more info and/or to order a copy of
One Week to Win Her Boss, check out
any of these etailers:
Entangled     Amazon
Amazon Australia     Amazon UK
Amazon Canada
Barnes & Noble
Apple iBooks     Kobo