She was extremely pregnant #sweetromance #MustRead #MFRWauthor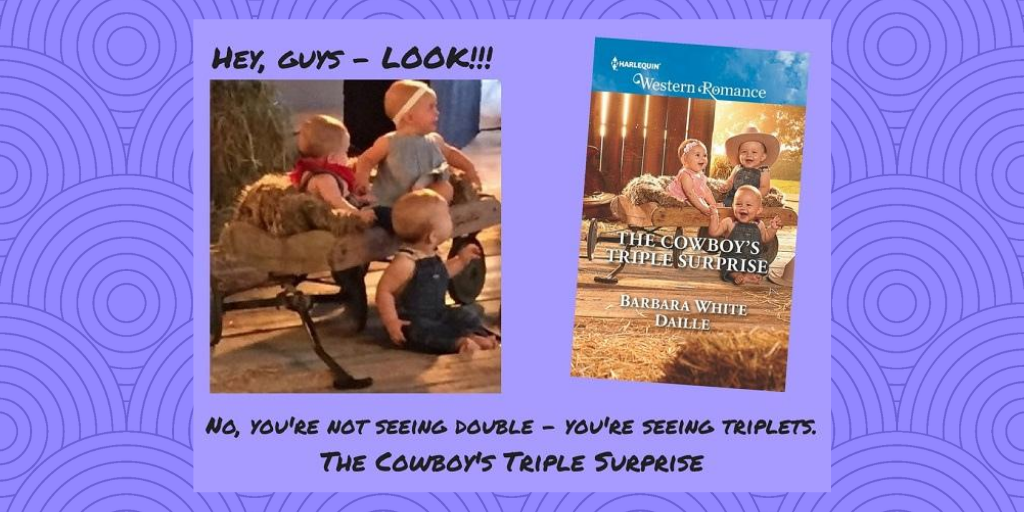 I'll be honest. I love the characters in every novel and short story I've ever written. But I have to admit to having a real soft spot for one of the books in the Hitching Post Hotel series.
Most of my books include babies and children, and The Cowboy's Triple Surprise is no exception. It is exceptional, though–at least to me. LOL Because as you just may be able to guess from the title, in this story, the hero and heroine become the mama and daddy of not one, not two, but three newborns. This was such a fun, emotional, heart-tugging story to tell.
Here's a little peek into the Chapter One, when Tyler gets his first look at Shay in almost nine months. 🙂
She reached for a cloth napkin and unfolded it. As if she'd given a signal, the folks around him began heading toward the tables. The movement spurred him toward the vacant seat at her side before anyone else could grab it.
As he slid onto the chair, she turned his way.
The smile stayed, but the light pink color drained from her cheeks. He saw her fingers clutch the napkin she had draped across her lap. And then he saw the rounded expanse of belly straining the knitted weave of her sweater.
She was extremely pregnant.
From the back cover:
A BIG SURPRISE—TIMES THREE!
The last time rodeo cowboy Tyler Buckham was in Cowboy Creek, he spent a steamy night with local beauty Shay O'Neill. Back in town for a quick visit, he's hoping they'll have another go-around before he heads for his next rodeo. But seeing Shay pregnant—with triplets!—leaves Tyler feeling as if his best horse has kicked him in the gut.
Shay swore she wouldn't fall for an unreliable cowboy, and Tyler's playboy past makes him even less likely to settle down. The whole town conspires to push them together, and Tyler insists he wants to do his duty by Shay and the triplets, but Shay knows she can't count on promises from a cowboy. Besides, Tyler never once mentioned the word love…
If you check out The Cowboy's Triple Surprise, I hope you enjoy reading it as much as I enjoyed writing it!