Maybe he wasn't meant to keep his thoughts away from her #sweetromance #smalltownromance #SnippetSunday #99cents #MFRWorg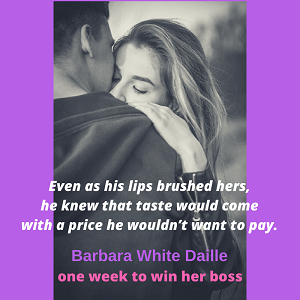 Here's a peek at a kiss scene from my sweet romance set in Snowflake Valley, One Week to Win Her Boss:
Maybe there was a reason he had come to the lodge just when Amber had decided to hide out here.
Maybe he wasn't meant to keep his thoughts away from her.
Or his hands off her.
He trailed his fingertips along her jaw, then lifted her chin. Her eyes widened and her lips parted and her breath exhaled in a rush that halted any thought he'd had of walking away.
With the tip of his thumb, he grazed her bottom lip. Her answering indrawn breath made it impossible for him to keep from lowering his mouth to hers.
One more taste…
But even as his lips brushed hers, he knew that taste would come with a price he wouldn't want to pay.
One Week to Win Her Boss
When Amber is temporarily forced from her apartment, her only option is to stay at her boss's private lodge, where she's the housekeeper. A stormy family reunion leaves Michael seeking the solitude of his lodge, where he finds Amber in residence—and in trouble. Attempting to save her from her matchmaking family, he announces they're a couple. His good deed backfires when they're instantly included in every holiday event in town. So much for solitude.
Both Snowflake Valley books are sale-priced at 99 cents through tomorrow, May 17th!
Links to all booksellers at my Entangled Publishing page:
Entangled: https://bit.ly/ENT-BarbaraWhiteDaille
Direct links to booksellers:
Amazon: http://bit.ly/azbwd
Barnes & Noble: http://bit.ly/BN-BarbaraAllBooks
Kobo: http://bit.ly/koboBarbaraBooks
Thanks for stopping by the blog!