Wish that family would adopt me #5stars Snowflake Valley #contemporary #holidayromance #99cents @entangledpub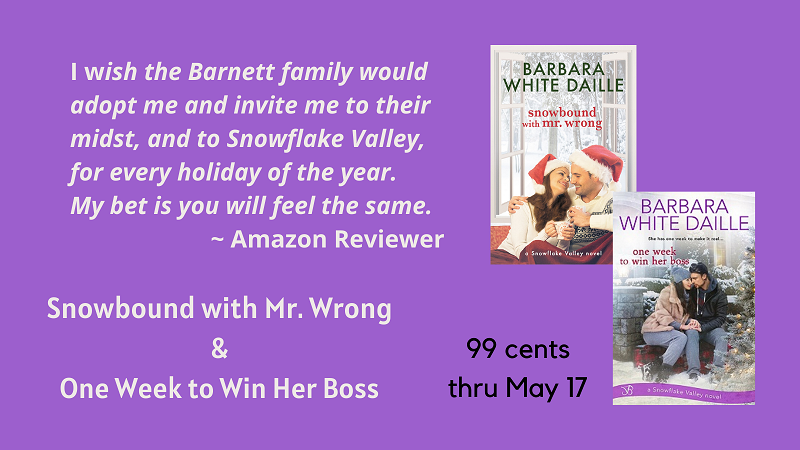 Welcome to The Daille-y News! If you enjoy a sweet romance read, I hope you'll take a look at these Snowflake Valley books and maybe grab up one or both before the special sale ends.
Snowbound with Mr. Wrong
Worst. Day. Ever. After Lyssa Barnett's sister tricks her into reprising her role at Snowflake Valley's annual children's party, she doesn't think anything can be worse than squeezing into her too-small elf costume. Then tall, dark, and way too handsome Nick Tavlock shows up to play Santa…and an unexpected storm leaves them snowbound in the isolated lodge. Now Lyssa is trapped with the man who drives her crazy in more than one way. She needs to stay strong–and far way from the mistletoe. Or maybe she just needs a little Christmas spirit…
One Week to Win Her Boss
When Amber is temporarily forced from her apartment, her only option is to stay at her boss's private lodge, where she's the housekeeper. A stormy family reunion leaves Michael seeking the solitude of his lodge, where he finds Amber in residence—and in trouble. Attempting to save her from her matchmaking family, he announces they're a couple. His good deed backfires when they're instantly included in every holiday event in town. So much for solitude.
Find links to all booksellers at my Entangled Publishing page:
Entangled: https://bit.ly/ENT-BarbaraWhiteDaille
Or visit my author pages directly at your favorite booksellers:
Amazon: http://bit.ly/azbwd
Barnes & Noble: http://bit.ly/BN-BarbaraAllBooks
Kobo: http://bit.ly/koboBarbaraBooks
Happy reading, and have a great weekend!