A single dad story #contemporary #romance #ASL #MFRWauthor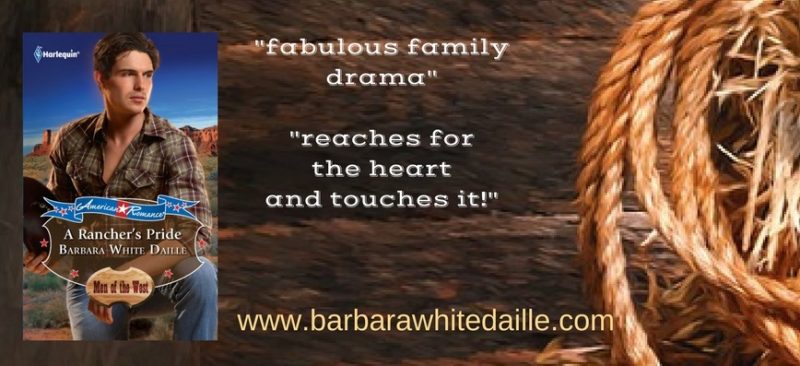 In A Rancher's Pride, Sam has just learned of his four-year-old daughter's existence, and the little girl has already stolen his heart. As Becky is deaf Sam can't communicate with her—but her Aunt Kayla can, giving Kayla a huge advantage in Sam's fight for custody of his own daughter…
Here's the clip (and FYI, Sharleen is Sam's mom):
Sam pulled the pickup into the yard and parked it near the barn. Over at the house, Sharleen sat on a wooden bench on the front porch with her foot propped up on a chair and a book in her hands.
No sign of Kayla and Becky. Last he'd heard, at breakfast, they were planning on baking cookies.
It had been a long three weeks since the day he'd run off at the mouth about Ronnie. Spending most of his time in Kayla's company since then had been hard enough. They had gone into town for the Fourth of July parade. Bringing Grandma Sharleen along gave their little group the touch of a real family—and had made an already awkward situation nearly unbearable.
Leaving the supplies he'd bought in the pickup for later, he crossed the yard to the porch and leaned against the railing.
Sharleen closed her book and smiled at him. "About time you came home. Becky's been looking for you."
"She has?" For a second, his breathing hitched.
In these past weeks, he'd made some progress with Becky. Tousled her hair. Sat with her in the evenings. Sometimes handed her one doll or another. It wasn't much, but it was something. Wasn't it?
Maybe so, if she had noticed he'd gone missing that morning.
"Well," Sharleen said, "she's been prowling around here ever since noontime as if she's lost something."
"She have fun making cookies?"
She smiled. "Sure did. And Kayla made peach cobbler for supper, too."
He stared at her, his eyes narrowed. Peach, apple, cherry, it didn't matter. Cobbler was his favorite. "Was that your idea?"
"Not at all."
He wondered.
Sharleen nodded in the direction of his pickup. "Did you get everything you needed at the hardware store?"
"Yeah."
That morning, he had jumped at the chance for the trip alone. At the chance to get away from the ranch and clear his head. Too bad he hadn't succeeded at that.
Still, he'd accomplished more than just buying the supplies. "Stopped and saw the judge, too."
"That's good," she said.
Kayla wouldn't think so when she heard about it.
From the cover of A Rancher's Pride:
Sam Robertson's life just changed. In one short day, he found out that he's a daddy; that his beautiful little girl, Becky, is deaf; and that her aunt, sign language teacher Kayla Ward, intends to fight him for custody.
There are plenty of reasons Sam shouldn't fall for Kayla. A city girl like her has no place on his ranch, particularly when she's his ex-wife's gorgeous sister. But thanks to the judge's orders, Sam's spending a lot of time with Kayla, trying to give Becky the stable home she's never known.
Despite their ongoing custody battle, Sam and Kayla's love for Becky brings them closer than they ever expected, and Sam knows that no matter who wins in court, he could still lose—Kayla or his daughter.
Find A Rancher's Pride:
Amazon  http://bit.ly/Amazon-ARanchersPride-BarbaraWhiteDaille
B&N  http://bit.ly/BN-ARanchersPride-BarbaraWhiteDaille
Harlequin  http://bit.ly/Harlequin-ARanchersPride-BarbaraWhiteDaille
Books-A-Million  http://bit.ly/BAM-ARanchersPride-BarbaraWhiteDaille
Kobo  http://bit.ly/Kobo-ARanchersPride-BarbaraWhiteDaille
Thanks for stopping by the blog!