His past still haunts him #smalltown #romance #MFRWorg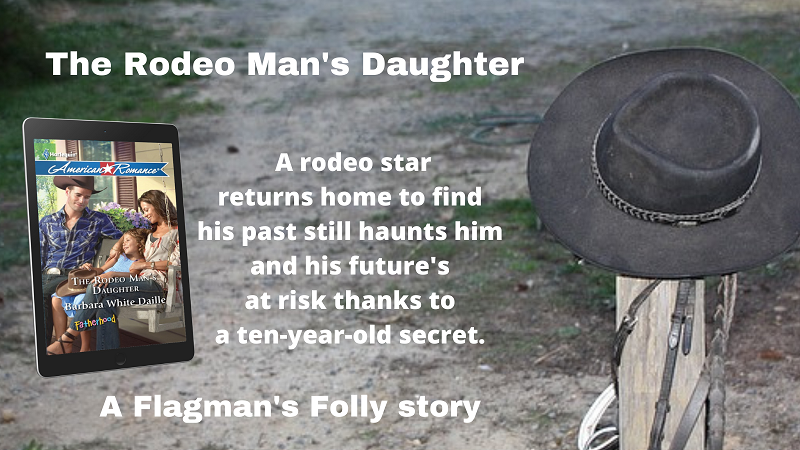 This week, we're returning to The Rodeo Man's Daughter for a longer look at the hero, Caleb Cantrell, who has just come back to the hometown he hasn't visited in years.
Caleb's past still haunts him, and in the opening scene, we view parts of that past right along with him:
Not a ritzy neighborhood, not a small community, just a collection of ramshackle houses and tarpaper shacks. A few had shiny windows and spindly flowers in terra cotta pots. Most had no windowpanes at all.  Here and there, he noted a metal-sided prefab home with too many coats of paint on it and weeds poking through the cinderblocks holding it up.
And somewhere, beyond all that, he knew he'd find a handful of sun-bleached trailers, their only decoration the cheap curtains hanging inside. The fabric blocked the view into the units through the rusty holes eaten into their sides.
Sometimes, the curtains blocked sights no kid should see, of mamas doing things no mama should do.
Swallowing hard, he retreated a pace, as if he'd felt the pull of one rust-corroded hulk in particular. It wouldn't be there still. It couldn't. But he had no intention of going over there to make sure.
Across the way, a gang of kids hung out near a sagging wire fence and a pile of castoff truck tires. Still quiet, but soon their laughter and loud conversations would start, followed by the shouts from inside the houses. Some of the houses, anyway.
The rough edges of his ignition key bit into his palm.
In all the years he'd been gone from this town and with all the miles he'd logged, he should have shoved away everything that bothered him about this place.
He hadn't forgotten a single one of them.
The gang of kids had moved out of sight behind one of the shacks. A lone boy, eight or nine years old, stayed behind and stood watching him. Dark hair, a dirty face. Torn T-shirt and skinned knees. Could have been Caleb, twenty years ago.
The kid made his way across the road. "Hey," he said, "whatcha doing?"
"Just looking around."
"What's wrong with your leg?"
The boy must have noticed his awkward gait, the stiffness that always hit him after he sat in one position for a while. "I hurt my knee.  Getting off a bull."
"Thought you were supposed to stay on 'em."
He shrugged. "That one had other ideas." Not too bad—in those three quick sentences, he'd managed to bypass two years' worth of rehab and pain.
The kid looked away then quickly back again, shuffled his feet and jerked his chin up high. Caleb recognized the mix of pride and false bravado.
"Hey, mister…got a dollar?"
"Sure." How many times had he asked that question himself? How many times had he sworn he'd never ask it again? He reached into his jeans pocket for his wallet, thumbed it open and plucked out a bill without looking at it. "Here you go."
"Wow. Gee, thanks. Thanks a lot."
Caleb grinned. The boy's grubby fingers clutched a hundred-dollar bill. He turned and raced across the road as if fearing Caleb would change his mind. He wouldn't. He had plenty of money now.
Folks in town would sure be surprised to see him again, especially when he started spending that cash. When he started showing them just how far he'd come. Maybe then they'd look at him differently than they had years ago.
His grin fading, he shoved the wallet into his pocket and nodded.
Yeah.  He'd show them, all right.
The Rodeo Man's Daughter
When Caleb Cantrell left home, he never thought he'd return as a wealthy rodeo star. Then an accident destroyed his career—and nearly ended his life. So Caleb goes back to Flagman's Folly, New Mexico, and his high school sweetheart, Tess LaSalle. But a ten-year-old secret stands between them, one that could hurt everyone Tess loves, especially her daughter…their daughter.
Find the book at some of your favorite booksellers, including:
Amazon
http://bit.ly/TRMD-Amazon
Barnes & Noble
http://www.barnesandnoble.com/w/the-rodeo-mans-daughter-barbara-white-daille/1105027958
Harlequin
https://www.harlequin.com/shop/books/9781459221062_the-rodeo-mans-daughter.html