The last thing she wanted #sweetromance #TheSheriffsSon #SnippetSunday #MFRWauthor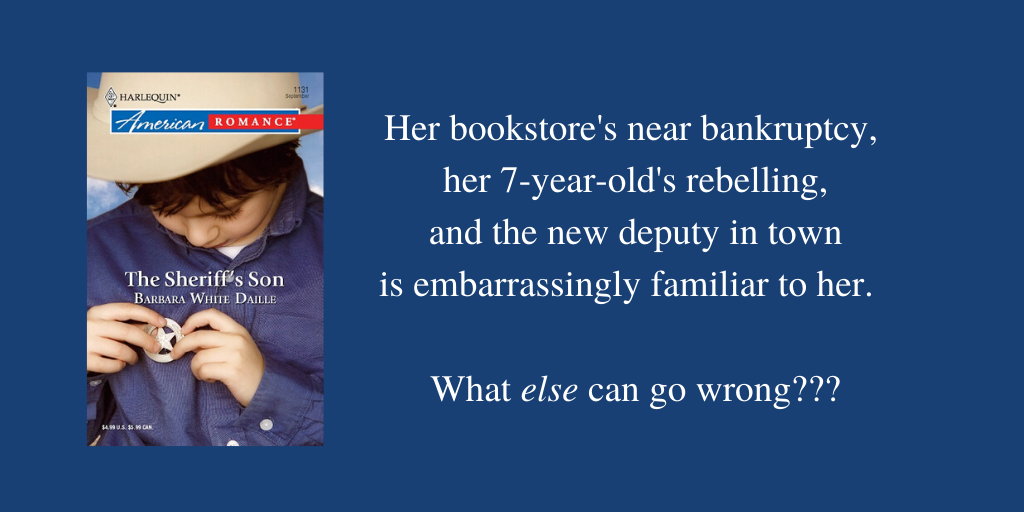 Single mom Sarah has more trouble than she needs, with a troubled seven-year-old on her hands and an ex who's suddenly returned to town.
Find last week's snippet from The Sheriff's Son here if you'd like to check it out first.
And for today:
The last thing Sarah wanted was Tanner together with her son.  She prayed Kevin would come into the store and head directly to the stairs leading up to their kitchen.  A slim to invisible chance of that happening.  But surely he would see the sheriff's car outside and would know enough to avoid Tanner.  Or maybe not.
She would have to get rid of Tanner.
For a moment, his broad outline blocked the light from the front window, and a cool shadow seemed to fall over her.  How could that happen, when he hadn't yet entered the store?
He shoved the door open.  The bell pealed.  Heeding its loud warning, she wrapped her arms around her, as much for reassurance as for warmth.
She could handle this situation.  She had to.
"Afternoon, Sarah."
She nodded.  Even before he removed his mirror-shaded sunglasses, she could feel his gaze on her.  When her hands shook, she both feared and welcomed the reaction.  Feared it for showing, no matter what he'd done, she hadn't gotten over him.  Welcomed it because, like the ringing bell, it gave her a warning.
Why Is Tanner Jones Back In Town?
Seven-year-old Kevin has been a handful for single mom Sarah Lindstrom, and when the new sheriff walks through her door holding her son by the scruff of his neck for egging his car, she knows she's lost control. But can she control herself—and keep the secret she's kept for so many years?
Tanner Jones has no idea Kevin is his son—he lost the right to that information when he abandoned Sarah soon after graduation. Just because he's back in town doesn't mean he can waltz into her life—and Kevin's—to pick up where they left off. But Sarah can't deny the feelings she still harbors for Tanner, and can't deny how her son is benefiting from his attentions.
When Tanner finds out the truth, what is he going to do?
Find The Sheriff's Son at major booksellers, including:
Amazon  http://bit.ly/2KtsszvJ
Barnes & Noble  https://www.barnesandnoble.com/w/the-sheriffs-son-barbara-white-daille/1007881628?ean=9781460369876
Books-a-Million  https://www.booksamillion.com/p/Sheriffs-Son/Barbara-White-Daille/Q116488734?id=6188230701440
Harlequin  https://www.harlequin.com/storeitem.html?iid=55991
Kobo  https://www.kobo.com/us/en/ebook/the-sheriff-s-son-10
Thanks for stopping by!