In honor of National Pancake Day, here's a "breakfast" clip from One Week to Win Her Boss. As for the pic, what's a sweet treat without a little chocolate! 🙂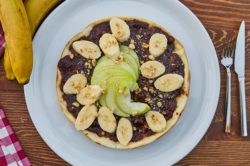 "We still have a lot to do to set up for the auction at noon." Amber gestured toward the stove, where Michael noted meat waited in a frying pan set next to a square griddle. "I figure we should be fortified for the morning, and lunch might be later than usual. So we've got pancakes and sausage on the menu today. Is that okay with you?"
"That's great with me. Kris Kringle Kakes, I presume?"
She laughed. "Of course not. The Barnetts don't follow in Anatole's footsteps when it comes to naming food."
"Good thing. I couldn't handle that this early." But he was teasing. This morning, seeing her bright smile and hearing her carefree laugh, he could handle anything—even another go-around with Penny and her colic. Not that that had been so bad last night. Penny had seemed to quiet quickly once he'd walked the floor with her.
He stopped by the playpen to check on the sleeping baby. "Looks like an angel now, doesn't she?"
"A Christmas angel?" she teased.
"Don't start. But talking about coming up with names, how did you decide on the baby's?"
Her smile dimmed. She ran her fingertips along the top edge of the playpen. Looking down at her daughter, she said softly, "She's my lucky Penny."
Just as quietly, he said, "What happened, Amber?"
He didn't need to explain. Her one quick breath told him she knew what he was asking. He didn't want to destroy her happy mood, but he wanted—needed—to know why his question about the baby had taken her smile away.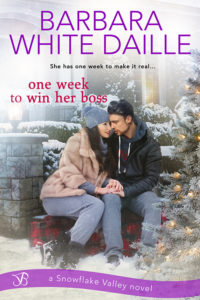 For more info and/or to order a copy of
One Week to Win Her Boss, check out
any of these etailers:
Entangled     Amazon
Amazon Australia     Amazon UK
Amazon Canada
Barnes & Noble
Apple iBooks     Kobo
Thanks for reading!