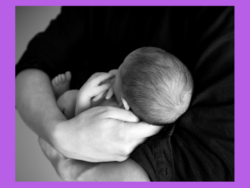 Time for Teaser Tuesday! Amber, the heroine of One Week to Win Her Boss, is all about family. Unfortunately, that boss of hers has very different views:
After a while, Michael said, "Two of my stepbrothers were still in diapers when she married my dad. Then, they had a couple of kids together, almost one right after the other. More boys. We had babies on hand in my house for years."
No wonder he hadn't been happy on Christmas Eve the first time he had heard Penny cry. No wonder he seemed to be…certainly not ecstatic now but taking it in stride. "So you were the oldest. And you wound up caring for them sometimes?"
"Most of the time, after Mama was gone. But you know, we all survived to tell the tales." His laugh didn't hold a bit of humor. "I'm not saying Carmen abandoned us. She was there…somewhere. Usually in her room watching soap operas while the kids settled down—more or less—with the afternoon cartoons in the living room."
Penny had quieted against his chest, as if the sound of his voice soothed her. Or as if she were as interested as her mommy was in hearing his story. Amber took another sip of tea, then held her breath, waiting.
He paced across to the dining area and back again. "Having all that responsibility when I was so young probably has a lot to do with how I feel about family."
He said nothing else, just continued to walk with Penny. The baby's cries had eased more quickly than they ever had. Now, she'd settled down to an occasional whimper and flailing fist as she fought the last of the colic.
Fire crackled. The combined warmth from the flames, the mug in Amber's hands, and the tea she had sipped made her eyelids drift downward. She blinked, forcing her eyes open.
There was nothing she could do about her drifting thoughts.
Did offering to hold her daughter mean Michael was getting comfortable around Penny? That his views about kids were shifting the slightest bit? That if she just held onto hope, one day he'd want to be a husband and daddy? And to have a family with her?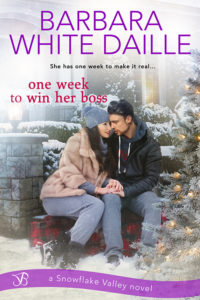 For more info and/or to order a copy of
One Week to Win Her Boss, check out
any of these etailers:
Entangled     Amazon
Amazon Australia     Amazon UK
Amazon Canada
Barnes & Noble
Apple iBooks     Kobo
Thanks for reading!