Happy St. Patrick's Day! They say everyone's Irish today whether it's part of their heritage or not. Truthfully I suspect someone made that up to give all who want it the pleasure of indulging in corned beef and cabbage, Irish soda bread, and green beer.
Which is fine by me. 🙂
My family is a good part Irish. So is the heroine's in Family Matters. And for Kerry, the large and crazy MacBride clan is often too much of a good thing!
Here's a clip from early in the story, with Kerry and her always scheming Uncle Brendan:
The amusement park had closed down during her high-school days and the rides had ceased running years before that. Still, the sight of Rainbow's End stirred many of her childhood memories. A great many of which, she'd rather forget.
Swallowing hard, she did her best to hold back a groan. "What do you want with an old amusement park, anyhow? Did you even discuss this with Gran first?"
"Sure, I did, and she's jumped on the deal with me—"
"No." This time, her groan escaped despite her effort to contain it. "Please tell me you didn't coerce her—"
"Kerry."
She tried to ignore his jaw-sagging expression of hurt. He was the man of a million faces, and who knew which ones you could trust?
"What do you take me for?" he went on. "Of course, I didn't twist your gran's arm. Joining in was all her own idea." He grinned and added, "Besides, you know she won't do anything she doesn't have a mind to do."
"True enough." She tried a smile, feeling her face stretch like a newly framed canvas. "So. What exactly is your plan?"
"Rejuvenation!" he cried in the tones of a snake-oil salesman. "Revitalization! Resurrection! Put another way, we're going to bring Rainbow's End back to life."
"Not if that hotheaded lawyer kills it." The image of Matt's dark eyes was enough to make her shiver. This time, she wasn't sure why.
"Ah, now, Kerry, me girl, you'll not be doubting your Uncle Brendan?"
The accentuated lilt in his voice gave him away. Gran always said Uncle Bren became more Irish than the Irish when he had something cooking. How could his own mother, knowing him so well, have fallen for his crazy scheme?
But of course, Gran was another unsteady branch on the MacBride family tree.
From the back cover of Family Matters:
FAMILY FIRST
Kerry Anne MacBride and her quirky family are a package deal—get one, you get them all. The high school art teacher is stubborn and fiercely protective of her kin, making her the absolute wrong woman for a straitlaced, hardheaded, by-the-books lawyer like Matt Lawrence, no matter how attracted she is to him. And anyway, now's not the time for distractions! Kerry has to focus on cleaning up the latest MacBride mess: a dilapidated amusement park her uncle just bought with the life savings of a bunch of senior citizens, including Matt's mom.
To restore Rainbow's End, Kerry will need Matt's help—and the luck of the Irish—because even though they clash more often than bumper cars, Kerry and Matt are about to share the wildest ride of their lives!
Find the book: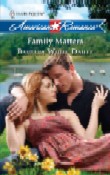 Amazon
https://www.amazon.com/gp/product/B0041KLD7E/
Barnes & Noble
http://www.barnesandnoble.com/w/family-matters-barbara-white-daille/1100347286
Kobo
https://store.kobobooks.com/en-us/ebook/family-matters-5
Harlequin
https://www.harlequin.com/shop/books/9781426869211_family-matters.html