Go read books! #cleanromance #excerpt @HarlequinBooks #MFRWauthor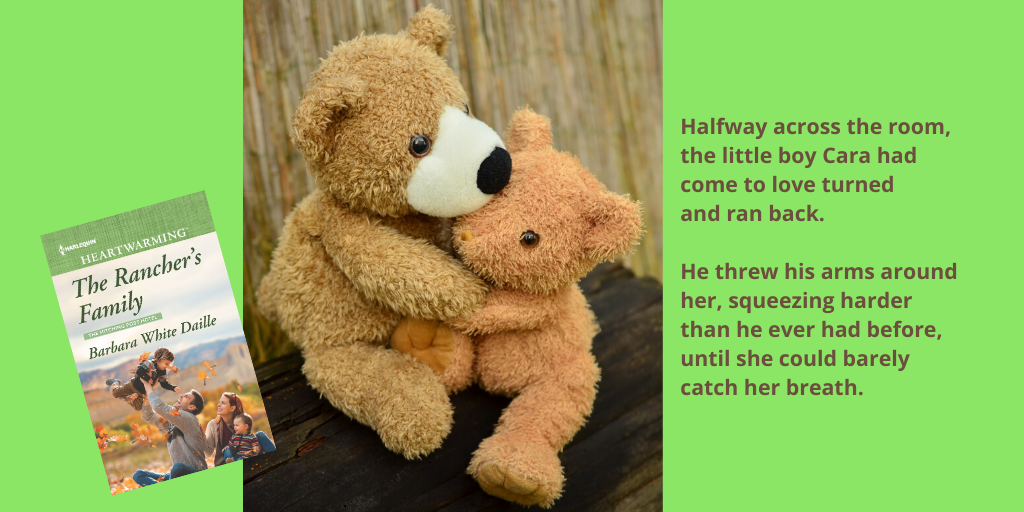 Whether you're a regular reader or dropping in for the first time, welcome to my website and blog! I write romance, sometimes a little sensual but always on the sweet/sweeter to clean side.
Today, I'm sharing a sneak peek at one of my clean romances, this one from Harlequin Heartwarming, The Rancher's Family:
"I don't want dessert. I want books." Mark pushed his bowl, which knocked over his half-full plastic cup.
Milk splashed everywhere, including onto her plate. Grabbing her napkin, Cara tried to catch a quickly moving stream before it could run off the edge of the table.
Wes set his fork on his plate. "Mark," he said mildly, "you just ruined Miss Cara's supper. What do you think you ought to do about that?"
"Go read books."
Wes sighed. "Okay, my boy, that's it. Somebody's ready for an early bath and bedtime. Two somebodies." He undid the buckles on Tracey's high chair. "Let's go. Say good night."
"No."
"Mark." Now his tone said this wasn't open for argument.
Mark must have caught this warning. "G'night, Miss Cara."
His mumbled words and the way he avoided her eyes clearly announced she had lost the chance to get a hug from him tonight.
He stomped toward the door.
Halfway across the room he turned and ran back. He threw his arms around her, squeezing harder than he ever had before, until she could barely catch her breath.
Find The Rancher's Family
Thanks for your interest! Here are a few places you can find the book:
Amazon http://bit.ly/Amazon-TheRanchersFamily-BarbaraWhiteDaille
B&N http://bit.ly/BN-TheRanchersFamily-BarbaraWhiteDaille
BAM http://bit.ly/BAM-TheRanchersFamily-BarbaraWhiteDaille
Harlequin http://bit.ly/Harlequin-TheRanchersFamily-BarbaraWhiteDaille
Kobo http://bit.ly/Kobo-TheRanchersFamily-BarbaraWhiteDaille
Happy reading, and stay safe and well!