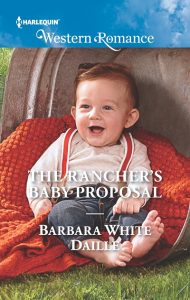 Happy Friday! I hope you're in for a good day and a great weekend.  When you're out and about on the Internet stop by to visit me at A Writer's Life…, where blog host Caroline Clemmons is asking some fabulous questions about me and my books.
There's some show-and-tell, an excerpt from my new release, The Rancher's Baby Proposal, and a book giveaway. (Note: the giveaway is open through May 29th.)
This will take you to the post.
For more info and/or to order the new release, check your favorite booksellers, including:
Amazon https://www.amazon.com/Ranchers-Baby-Proposal-Hitching-Hotel-ebook/dp/B01LLPCDXY/
Barnes & Noble http://www.barnesandnoble.com/w/the-ranchers-baby-proposal-barbara-white-daille/1124564570
Books-A-Million http://www.booksamillion.com/p/Ranchers-Baby-Proposal/Barbara-White-Daille/Q92625305?id=6809026813830
Harlequin http://www.harlequin.com/storeitem.html?iid=70354
IndieBound http://www.indiebound.org/book/9780373757596
Kobo https://www.kobo.com/us/en/ebook/the-rancher-s-baby-proposal
Thank you!