Readers – I'm visiting in Australia with an excerpt from the newest book in my Hitching Post Hotel series, The Rancher's Baby Proposal.
The support behind this book has been phenomenal, and I appreciate each and every one of you who has picked up a copy.
If you haven't yet grabbed the book and want to find out more about The Rancher's Baby Proposal and/or the series, I've included links below to bookstores in the US, Australia, and the UK.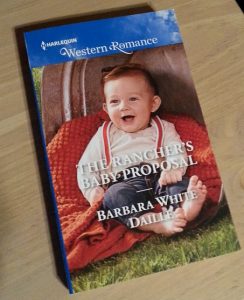 Thanks for your interest in The Rancher's Baby Proposal.
Click here to go to the blog post.
If you have trouble with the above link, so sorry! (I can't get it to open in Internet Explorer.)  Please try cutting and pasting this link into a different browser:  http://irisblobel.com/barbarawhitedaille-4/
~ ~ ~
Find the book almost everywhere, including:
US EDITIONS
Amazon
https://www.amazon.com/Ranchers-Baby-Proposal-Hitching-Hotel-ebook/dp/B01LLPCDXY/
Barnes & Noble
http://www.barnesandnoble.com/w/the-ranchers-baby-proposal-barbara-white-daille/1124564570
Books-A-Million
http://www.booksamillion.com/p/Ranchers-Baby-Proposal/Barbara-White-Daille/Q92625305?id=6809026813830
Harlequin
http://www.harlequin.com/storeitem.html?iid=70354
IndieBound
http://www.indiebound.org/book/9780373757596
Kobo
https://www.kobo.com/us/en/ebook/the-rancher-s-baby-proposal
AUS EDITIONS
Amazon Australia
https://www.amazon.com.au/dp/B06Y1TCS2B/
Mills & Boon Australia
http://www.millsandboon.com.au/product/9781489238047
UK EDITIONS
Amazon
https://www.amazon.co.uk/dp/B01N1ENZV0/
Mills & Boon
https://www.millsandboon.co.uk/p53118/the-ranchers-baby-proposal.htm
Thank you, and happy reading always.