Santa's just ho-ho-hopeless #sweetromance #excerpt #booksale #MFRWauthor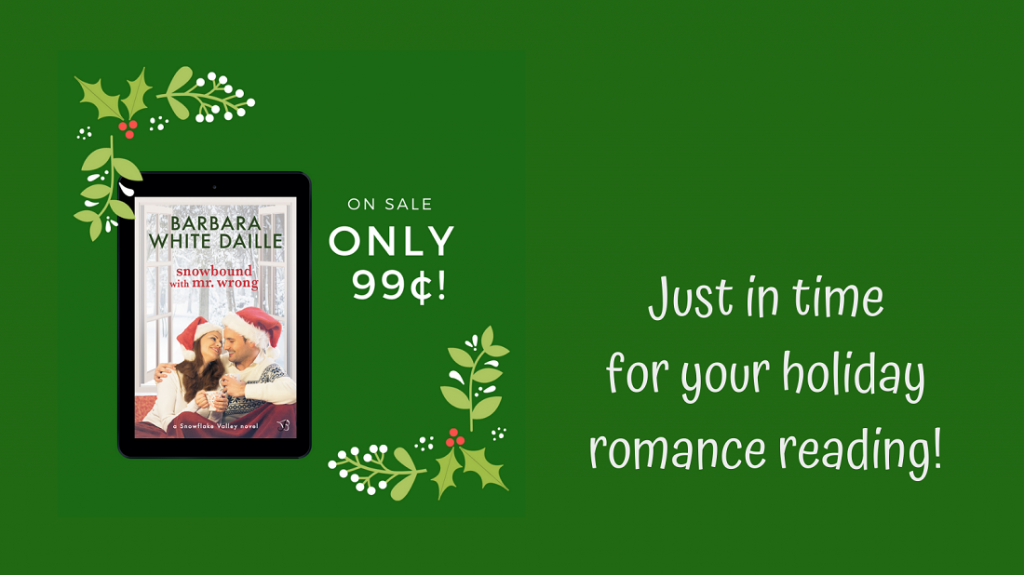 Nick Tavlock AKA Santa may have met his match when he's snowbound with his ex and a handful of kids! Snowbound with Mr. Wrong is a standalone book in my sweet romance series, Snowflake Valley, and my publisher has the book priced at 99 cents through tomorrow. See note below about the sale price.
From the cover:
Worst. Day. Ever. After Lyssa Barnett's sister tricks her into reprising her role at Snowflake Valley's annual children's party, she doesn't think anything can be worse than squeezing into her too-small elf costume. Then tall, dark, and way too handsome Nick Tavlock shows up to play Santa…and an unexpected storm leaves them snowbound in the isolated lodge.
The last thing Nick wants is to spend a cozy Christmas Eve with a trio of kids and the woman who dumped him. But as much as Lyssa frustrates him, he can't stop thinking about her. And soon, he's fighting very un-Santa-like thoughts of kissing a certain sexy Miss Elf under the mistletoe. As Nick starts to fall for Lyssa all over again, he knows it will take nothing short of a miracle to have Lyssa in his arms on Christmas Day.
From the story:
Lyssa frowned at him over the kids' heads. Her cheeks had turned pink, and not from the fire, he'd bet.
"Hey, Santa!" The pint-sized boy in front of him tugged on Nick's sleeve and grinned, showing several gaps from missing baby teeth. "It's my turn first."
"Well, aren't you the lucky one?" He lifted the kid and put him on his knee. "What's your name, little guy?"
"I'm not little. I'm five. And I'm Tommy."
Nick nodded. "Okay, Tommy, what have you got in mind for this Christmas?"
"I want a bike."
"Good choice. A Harley, naturally. Top of the line. You can get it customized with—"
Tommy shook his head, cutting him off. Two long lines creased the kid's forehead. "No, Santa, I want a bike."
Lyssa cleared her throat and leaned over Nick's shoulder. He tried to ignore the subtle vanilla-and-spice scent that instantly reminded him of sharing cookies—her contribution—and a bottle of wine—his offering—in front of another fire.
"A bicycle, Santa," she clarified. "You know, with pedals? And training wheels?"
"Oh yeah." Nick nodded. He should have realized that himself. And, of course, he had to make the slip in front of Lyssa. It had probably only reinforced in her mind what she had claimed when she broke up with him, that their thinking was worlds apart. He focused again on the kid. "Tommy, that bicycle sounds like an excellent idea. Make a note, Miss Elf."
A girl who looked twice Tommy's age moved close to his elbow. Her frigid-blue eyes nearly bored into his as she whispered, "No, Santa. You're supposed to remember our wish lists."
"Sorry, kid," he whispered back, "but the old memory's not what it used to be."
She whipped her long brown braid over her shoulder and frowned, even though he'd given her his best smile. His fake beard must have gotten in the way.
"Besides," he added, "I don't have my organizer with me. That's why I brought the elf along." He glanced up at Lyssa. Beard or no beard, he knew it would be a waste of time smiling at her. She seemed to be looking pointedly away from him. He turned back to the boy. "So tell me, what did you get your mom and dad for Christmas?"
"I made them a card at school."
Nick gave his best ho, ho, ho. "Nice start, son, but you've got to take that up a notch. You'll need to get them a gift, too."
The kid's brown eyes rounded like a couple of tarnished pennies. "But I'm only in kindergarten!"
"Santa," Lyssa said in a warning tone.
Nick sighed. Even the Chief Elf himself can't get good help nowadays.
Find the book here:
Amazon: http://bit.ly/swmw-amz
Entangled Publishing and other retailers: http://bit.ly/swmw-pg
FYI – the sale runs through tomorrow, Monday, November 16, but some retailers may adjust that date in either direction.
If you pick up the book, I hope you enjoy it!