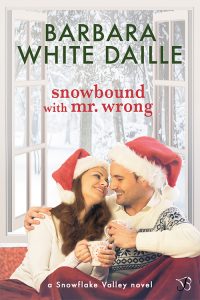 Worst. Day. Ever. After Lyssa Barnett's sister tricks her into reprising her role at Snowflake Valley's annual children's party, she doesn't think anything can be worse than squeezing into her too-small elf costume. Then tall, dark, and way too handsome Nick Tavlock shows up to play Santa…and an unexpected storm leaves them snowbound in the isolated lodge.
The last thing Nick wants is to spend a cozy Christmas Eve with a trio of kids and the woman who dumped him. But as much as Lyssa frustrates him, he can't stop thinking about her. And soon, he's fighting very un-Santa-like thoughts of kissing a certain sexy Miss Elf under the mistletoe. As Nick starts to fall for Lyssa all over again, he knows it will take nothing short of a miracle to have Lyssa in his arms on Christmas Day.
Final announcement! 🙂
This will be the last time I get to say this:
Snowbound with Mr. Wrong is on sale for ninety-nine cents through the end of November. If you're looking for a quick holiday read for your e-reader, check it out!
Amazon:  http://bit.ly/swmw-amz
Amazon Canada:  http://bit.ly/swmw-ca
Barnes & Noble:  http://bit.ly/swmw-bn
Entangled Publishing:  http://bit.ly/swmw-pg
iBooks:  http://bit.ly/swmw-ibooks
Kobo:  http://bit.ly/swmw-kobo
Note:  Some retailers may offer slightly different sale dates (shorter or longer) for a book, so always check prices before you one-click!
And watch this space for Wednesday Wisdom, which returns next week.