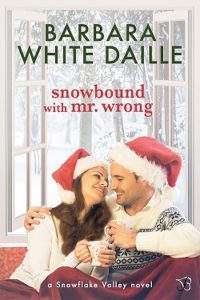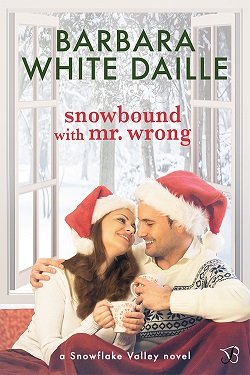 I hope everyone who celebrated this week's holiday had a wonderful day! My entire week was a bit crazy, as computer gremlins attacked my computer with a minor update bug – while I was plugging away on a deadline. Murphy's Law strikes again! Fortunately, things are almost back to 100%. 🙂
If you're new to the blog, welcome!
I'd like to let you know my first Snowflake Valley book, Snowbound with Mr. Wrong, has been specially priced by my publisher for only $.99 for the month of November.
If you enjoy sweet romance, I hope you'll check out the book.
This is from the back cover:
Worst. Day. Ever. After Lyssa Barnett's sister tricks her into reprising her role at Snowflake Valley's annual children's party, she doesn't think anything can be worse than squeezing into her too-small elf costume. Then tall, dark, and way too handsome Nick Tavlock shows up to play Santa…and an unexpected storm leaves them snowbound in the isolated lodge.
The last thing Nick wants is to spend a cozy Christmas Eve with a trio of kids and the woman who dumped him. But as much as Lyssa frustrates him, he can't stop thinking about her. And soon, he's fighting very un-Santa-like thoughts of kissing a certain sexy Miss Elf under the mistletoe. As Nick starts to fall for Lyssa all over again, he knows it will take nothing short of a miracle to have Lyssa in his arms on Christmas Day.
Here's an excerpt from the book
In this excerpt, the storm is on its way, and everyone is hurrying to get ready to leave the lodge:
"Before I can leave," Lyssa added, "I have to store the leftover food, put out the fire, and close up the house."
"I'll help you." Anything to get moving..
"You can handle the fire, I suppose," she said grudgingly. "But take off that costume first, please. It's a rental, and we can't risk singed fur."
He started undoing the hook closures down the front of his jacket, his fingers clumsy in his haste to get out of the suit. And out of here.
"Nick!" Quickly, she covered his hands with hers.
"Not here, Santa," Lyssa hissed, directing his attention back her way. She closed the one hook he'd managed to open and glanced around the room.
Along with the Terrible Trio, another handful of kids stood staring at him as their moms or dads or drivers buttoned their jackets. He should've known Santa would always be the star of the show.
"Fine," he muttered. "I left my clothes upstairs, anyhow. Be right back."
Two steps later, something on the floor moved beneath his foot, then skidded a handful of inches, and finally shot out from under him. He went down, wrenching his ankle in the clunky Santa boot and landing on his butt with a thud that seemed to jar the room.
Under his breath, he muttered a very un-Santa-like word.
You can find the sale prices at most major etailers
Amazon:  http://bit.ly/swmw-amz
Amazon Canada:  http://bit.ly/swmw-ca
Barnes & Noble:  http://bit.ly/swmw-bn
Entangled Publishing:  http://bit.ly/swmw-pg
iBooks:  http://bit.ly/swmw-ibooks
Kobo:  http://bit.ly/swmw-kobo
Thanks for your interest, and happy reading!