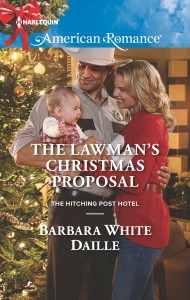 December is one of my favorite months of the year, not for the weather, but definitely for the holidays, the food, and the miracles that can happen during the season. The scheming grandpa from my Hitching Post Hotel series kinda feels the same…
Below is an excerpt from the The Lawman's Christmas Proposal, a Hitching Post Hotel story. But first, a peek at the back cover: 
A HUSBAND FOR CHRISTMAS?
Mitch Weston's back in Cowboy Creek, and self-proclaimed matchmaker Jed Garland has his single granddaughter Andi on his mind. Mitch is a lawman, good with the little ones and easy on the eyes. He and Andi were high school sweethearts, for heaven's sake! Why can't they see they're perfect for each other?
Because Andi already lost one husband to a dangerous job, and now she's all about playing it safe, for her sake and her children's. Being a cop is everything to Mitch. After discovering Jed's plan, Mitch and Andi come up with their own: they'll pretend to get engaged and then break up due to irreconcilable differences. Jed's got his work cut out for him—because this match needs a Christmas miracle!
EXCERPT
This is from the Prologue. Jed is the owner of the Hitching Post Hotel, Paz is the hotel cook and his longtime friend, and Sugar owns the local bakery and sandwich shop:
"Is there something wrong?" Paz asked.
Sugar shook her head. "No. Well…there is and there isn't. Mitch is home."
Attention caught, Jed leaned forward. "Home? You mean to stay?"
Sugar shrugged. "Lyle doesn't know for sure himself. But he'll settle for having the boy here till the holidays."
No wonder the woman had been grinning like a fool. Mitch was the sheriff's oldest son, now an officer with the Los Angeles Police Department. While Lyle was fit to bust with pride over all the boy's commendations, no one in town liked the idea of him living so far away.
Trouble was, nobody knew what had been to blame for Mitch's departure. And at the moment, Jed didn't know what had led to the boy's return.
One of the waitresses signaled to Sugar from over near the kitchen. She hustled away, leaving Jed and Paz staring at each other.
"Oh, Jed," Paz said in a low voice. "I know that look. You're at it again."
His grin must have rivaled Sugar's, and no doubt Paz had accurately read his mind.
A self-proclaimed matchmaker, he'd had some success bringing two of his granddaughters together with the men meant for them. "Well, why not?" he demanded. "The Christmas season's almost upon us—and isn't that the time for miracles? Besides, no sense putting myself out to pasture when I'm on a winning streak on the track. And when I've got one granddaughter still unattached."
Find out more about and/or purchase the book at any of these locations:
Amazon   Barnes & Noble   Books-A-Million
Thanks for stopping by!