A Christmas catastrophe #sweetromance #excerpt #Christmasromance #MFRWhooks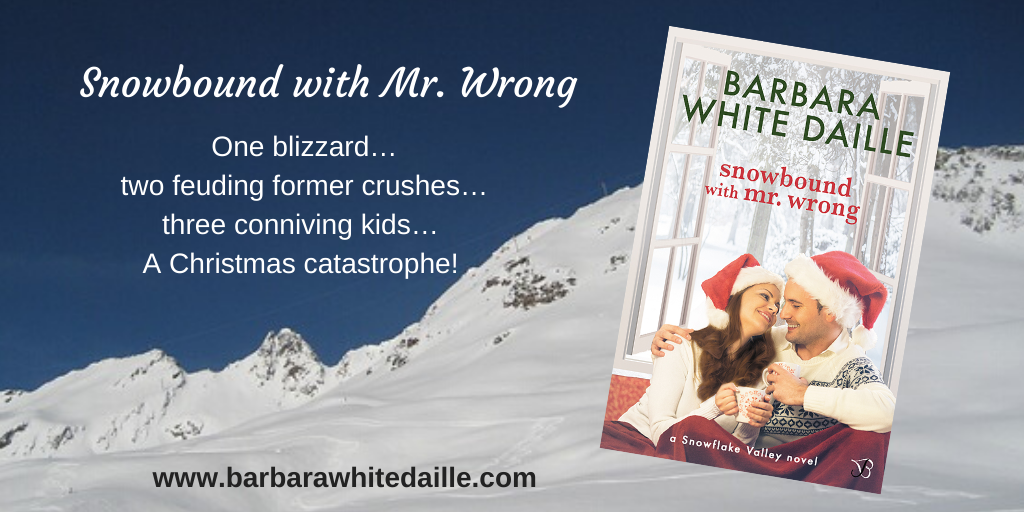 In Snowbound with Mr. Wrong, when Nick and Lyssa are unexpectedly reunited to reprise their roles of Santa and Miss Elf, their holiday becomes a disaster they'll never forget!
From the book:
The vehicles that had left the lodge before them were long gone. At this point, the five of them might be the only people left on the mountain.
The incline of the driveway and the snow-hail mixture that had already built up on its surface made the going treacherous. More than once, the small car had skidded toward the edge of the drive. It slid that way again now.
And, again, little Tommy bounced forward against his seat belt and shrieked.
"Hey, kid," Nick said over his shoulder, "could you keep it down back there?"
The boy was only yelping with excitement, he knew, but that didn't make things any easier for Lyssa. He could see her gloved fingers gripping the steering wheel and her unblinking gaze focused through the windshield. The car's headlights gleamed against swirling snow as she fought to bring all four wheels back onto the lane.
He wanted to reach over and cover her hand with his to offer support and reassurance. But she couldn't afford to have her concentration broken.
For the ninety-ninth time, he cursed himself. Inside the lodge earlier, he'd been so aware of Lyssa—so unaware of his surroundings—he'd never noticed the kid's toy truck on the floor just a yard away from his feet.
"Miss Lyssa," Tommy said in a tiny voice, "are we going to get home by Christmas?"
"Of course, we are," Mollie answered for her. "That's three whole days away."
"But how is Santa Claus going to get back to the North Pole?"
Nick looked at the kid, who sat staring at him in return, his brown eyes wide.
"He just will," Mollie answered again. "He flies in snow all the time. Doesn't he?" She had addressed the question directly to Nick, her tone insistent. He saw she sat staring at him, too. Testing him, maybe. Putting him in the hot seat.
He shot another glance at Lyssa. As a civilian now, he didn't know what she'd want him to say. But she remained focused on the road. He was on his own. He looked back at the kids and shrugged. "Isn't that what Santa's sleigh and reindeer are for, getting him through the snow?"
"See, Tommy, I told you," Mollie said triumphantly.
The two kids began a whispered argument that continued for a minute or two. Then came a long, tense silence, broken only by the shushing sound of the brittle snow now pelting the car.
Lyssa inched down the mountainside. At last, they neared the intersection where the lane from Michael's lodge met the main road. Even at the snail's pace Lyssa was traveling, as she started into the turn, the car began to fishtail then slide sideways.
Nick braced his good foot on the floorboard. He looked back to make sure all three kids still had their seat belts on—Lyssa wouldn't put the car into gear earlier until she'd confirmed they had clicked them into place. Then he risked placing his hand on her shoulder. She didn't react, and he hadn't expected her to, but he hoped his touch helped bring her a measure of support. He had to admit the action made him feel better.
But it didn't do anything to solve their dilemma.
With the car having almost no traction at all, Lyssa didn't stand much of a chance.
From the back cover:
Worst. Day. Ever. After Lyssa Barnett's sister tricks her into reprising her role at Snowflake Valley's annual children's party, she doesn't think anything can be worse than squeezing into her too-small elf costume. Then tall, dark, and way too handsome Nick Tavlock shows up to play Santa…and an unexpected storm leaves them snowbound in the isolated lodge. Now Lyssa is trapped with the man who drives her crazy in more than one way. She needs to stay strong–and far way from the mistletoe. Or maybe she just needs a little Christmas spirit…
Find Snowbound with Mr. Wrong at your favorite booksellers:
~ ~ ~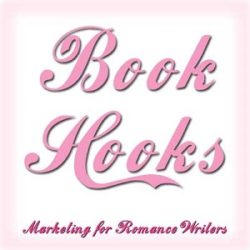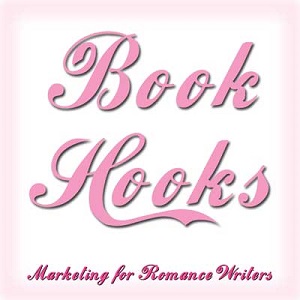 Book Hooks is a weekly meme hosted by Marketing for Writers as part of the MFRW Authors Blog. Each week, you'll have the chance to get a peek at works-in-progress or published books from many different romance authors.
Thanks for stopping by my blog! Please say hello and leave a comment.
And check out the other authors participating this week.