Today is Book Hooks, a blog hop where authors post clips from their books and link to each other to share them with you.

My hook comes from One Week to Win Her Boss, the next book in my Snowflake Valley series, releasing this Monday! Take a peek, then read on to find the list of other authors participating in the hooks – and to find out about a special giveaway from me.
Here's my hook:
Michael shot to his feet as Amber rose from the couch.
She froze, looking up at him uncertainly. But she didn't back away. She didn't look away. Those sparkling eyes of hers stared into his, drawing him to her. Instead of backing up and walking off the way he'd intended to—the way he should have—he stepped forward, as if he had no choice in the matter. And maybe he hadn't.
Maybe there was a reason he had come to the lodge just when Amber had decided to hide out here.
Maybe he wasn't meant to keep his thoughts away from her.
Or his hands off her.
He trailed his fingertips along her jaw, then lifted her chin. Her eyes widened and her lips parted and her breath exhaled in a rush that halted any thought he'd had of walking away.
With the tip of his thumb, he grazed her bottom lip. Her answering indrawn breath made it impossible for him to keep from lowering his mouth to hers.
One more taste…
But even as his lips brushed hers, he knew that taste would come with a price he wouldn't want to pay.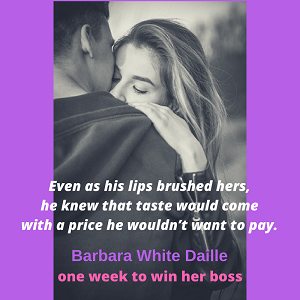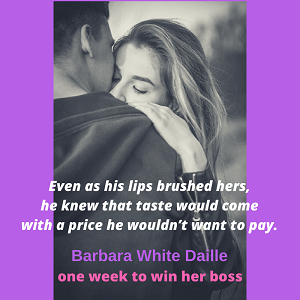 To find out about my Rafflecopter, click the back button at the top of this page to read yesterday's post. I'm guest blogging at Just Contemporary Romance with a multi-prize giveaway – but the Rafflecopter is open for a couple of weeks.
Here are the other authors participating today. Go visit! Read their clips! Enjoy! 🙂