It's Book Birthday Eve! And as my new release, One Week to Win Her Boss, is a Christmas book, I'm sharing a snippet from the story's opening scene, which takes place on Christmas Eve:
The jingling of Santa's sleigh bells jolted Amber Barnett awake on the couch. Following the bells came a thud, a crash, a clatter, and a long string of muttered curses. That couldn't be. Santa wouldn't swear like a sailor, especially not on Christmas Eve.
Time to wake up. She was hearing things and not making any sense.
Well, it had been a long, stressful trip here. And with the storm racing toward Snowflake Valley, heading up to her boss's mountain lodge after her family's open house might not have been the brightest idea ever. But it was the best solution she could come up with.
From the cover of One Week to Win Her Boss:
Single mom Amber Barnett loves family, kids, Christmas…and unfortunately, her boss, confirmed bachelor Michael DeFranco. It's a crush she really needs to get over. Except, when she's temporarily forced from her apartment, her only option is to stay at Michael's private ski lodge, where she's the housekeeper. No problem. Her handsome boss rarely visits Snowflake Valley unexpectedly, plus he's spending the holidays with his family. Or so she thinks…
A stormy Christmas Eve reunion leaves Michael seeking the solitude of his lodge, where he finds Amber in residence—and in trouble. Attempting to save her from her matchmaking family, he announces they're a couple. His good deed backfires when they're instantly included in each and every holiday event in town. So much for solitude.
Only the more time he spends with the beautiful, cheery brunette, the more he yearns to make things real between them. But he and Amber want different things, and Michael could never be the family man she's looking for.
From an early review:
"Heartwarming and charming in every way! It all of a sudden feels like the holidays with this book!" –Erika C., NetGalley
The book is available for pre-order almost everywhere.
I hope you'll check it out at any of the links below.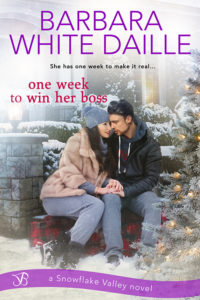 Entangled     Amazon
Amazon Australia     Amazon UK
Amazon Canada
Barnes & Noble
Apple iBooks     Kobo