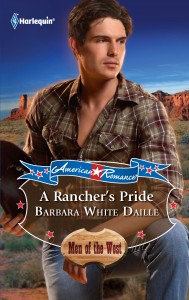 An intro to today's Teaser Tuesday:
Kayla, the heroine of the first Flagman's Folly story, A Rancher's Pride, is an American Sign Language teacher and the aunt of four-year-old Becky. And you'll learn a little sign language in the following clip from the book…
The sound of a dog's bark distracted Kayla. The noise had come from the backyard.
She moved over to the screened door and saw Becky outside with one of the ranch animals, a puppy. He looked like a Labrador-Shepherd mix. His body and nose were dark, his face tan. A large dark patch of fur completely circled one eye, giving him a permanently startled expression.
Kayla smiled.
Out on the porch, she sank to the top step.
When Becky saw her, she snapped her fingers and pointed. Dog. She covered her eye with her hand. Pirate.
Kayla laughed. A good name for the little pup. And so nice for Becky to have a friend.
From the back of the book:
His Whole World Is In Her Hands
Sam Robertson's life just changed. In one short day, he found out that he's a daddy; that his beautiful little girl, Becky, is deaf; and that her aunt, sign language teacher Kayla Ward, intends to fight him for custody.
There are plenty of reasons Sam shouldn't fall for Kayla. A city girl like her has no place on his ranch, particularly when she's his ex-wife's gorgeous sister. But thanks to the judge's orders, Sam's spending a lot of time with Kayla, trying to give Becky the stable home she's never known.
Despite their ongoing custody battle, Sam and Kayla's love for Becky brings them closer than they ever expected, and Sam knows that no matter who wins in court, he could still lose—Kayla or his daughter.
~ ~ ~
This book is still $.99 in digital format at many of your favorite booksellers, though I don't know for sure how long the sale will continue.
Amazon  http://www.amazon.com/Ranchers-Pride-Barbara-White-Daille-ebook/dp/B004U73TFC
Barnes & Noble  http://www.barnesandnoble.com/w/ranchers-pride-barbara-white-daille/1100382659?ean=9781459202337
Harlequin  https://www.harlequin.com/shop/books/9781459202337_a-ranchers-pride.html
Kobo  https://store.kobobooks.com/en-us/ebook/a-rancher-s-pride