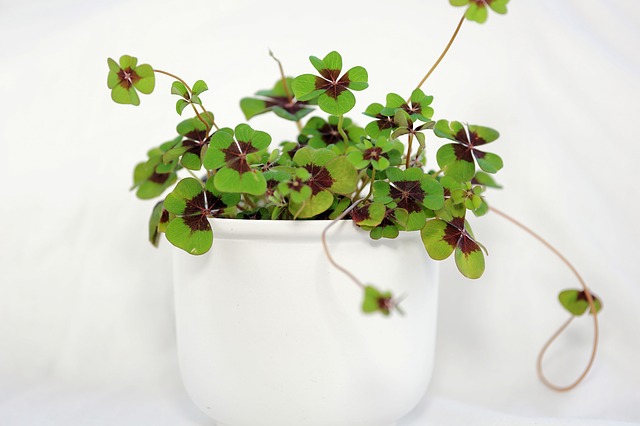 Happy St. Patrick's Day to you, whether you're of true or honorary Irish descent on March 17th every year.  😉
The heroine of my sweet romance, Family Matters, comes from a large, genuine, and…uh…sometimes troublesome Irish family. Guess who spends half her life getting her beloved relatives out of that trouble? This time, they've gone a step too far. When her crazy uncle comes up with a scheme to renovate an abandoned amusement park, Kerry is not amused. Neither is the handsome lawyer threatening to throw her uncle in jail!
~~~
Kerry took a deep breath and tried to ignore the man beside her. Carefully, she walked up the slope outside the clubhouse, not wanting to risk another slip on the thick grass and having Matt reach out to help her again.
The last time he'd touched her, he'd kissed her. And her response had told her just how much she needed to stay away from him.
At the top of the slope, the sound of a familiar, tinny brring-brrrring brought her to a halt.
Gran pulled her trike to a stop in front of them, barely missing Matt's toes.
Under her lashes, Kerry watched as he took in the sight of Gran in her jogging suit astride her tricycle. She sat in the front seat with a tandem seat for a second rider behind. The trike also sported a passenger car.  On the side of the car, a metal sign demanded If you can't be Irish, at least be green.
Matt looked dazed.
"We're meeting up for dinner at Bill's," Gran announced. Bill's Griddle and Grill was their family's favorite restaurant.  You and Olivia, too," she told Matt.
He nodded but said nothing, just began to wander in the direction of the parking lot.
Kerry would blame his reaction on the sight of Gran's trike, except for the fact that he'd been unusually quiet on their way back from the pier.
"What did you do to him, love?"
"What did I—?" Kerry stopped short, recognizing the gleam in her grandmother's eye. "This was your idea, wasn't it?  Inviting the Lawrences to eat with us?"
"It was my turn," Gran said, shrugging.
Maybe she simply meant her turn to play hostess. But why did the words sound so ominous? "What do you mean?"
Gran's face twisted in exasperation. "Well, who do you think got Matt out of the way this morning so you could present the proposal in peace?"
"Who—?" Kerry gasped as the suspicion hit her. "Not Olivia?" Good heavens, it wasn't bad enough Uncle Bren had made Kerry guilty by association. Now, her family had corrupted Matt's mother, too.
Family Matters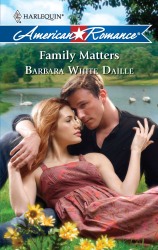 FAMILY FIRST
Kerry Anne MacBride and her quirky family are a package deal—get one, you get them all. The high school art teacher is stubborn and fiercely protective of her kin, making her the absolute wrong woman for a straitlaced, hardheaded, by-the-books lawyer like Matt Lawrence, no matter how attracted she is to him. And anyway, now's not the time for distractions! Kerry has to focus on cleaning up the latest MacBride mess: a dilapidated amusement park her uncle just bought with the life savings of a bunch of senior citizens, including Matt's mom.
To restore Rainbow's End, Kerry will need Matt's help—and the luck of the Irish—because even though they clash more often than bumper cars, Kerry and Matt are about to share the wildest ride of their lives!
Find the book
Amazon
https://www.amazon.com/gp/product/B0041KLD7E/
Barnes & Noble
http://www.barnesandnoble.com/w/family-matters-barbara-white-daille/1100347286
Kobo
https://store.kobobooks.com/en-us/ebook/family-matters-5
Harlequin
https://www.harlequin.com/shop/books/9781426869211_family-matters.html
Happy St. Patrick's Day!