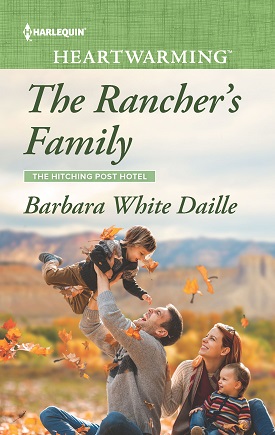 Happy Tuesday! I'm thrilled to be sharing the cover of my first book from Harlequin Heartwarming.
Wes and Cara have been traumatized by incidents that involved other people. Yet for the sake of his children, they both need to overcome the past in order to work together.
Here's a quick peek from the book:
Cara looked at her car only a few yards away. Maybe she should get in it again and leave. Maybe Wes Daniels had decided he didn't want help.
And after all, who was she to come here and disturb a stranger still so wrapped up in grief that he might wind up a hermit, as Jed had put it?
The door swung open. Her jaw almost dropped.
A man stood in the opening, silhouetted by the light from a lamp in the room behind him. Not Jed's "old friend." A much younger man, twentysomething, with broad shoulders and sturdy arms and dark brown eyes beneath dark brows. A man she already…sort of…knew.
The unfriendly cowboy she had met that afternoon at the Big Dipper.
He looked just as surprised to see her. "Did you make a wrong turn on your way to somewhere else?"
"That might be impossible in Cowboy Creek."
"Yeah. We're not like the big city."
A point in his favor—he'd remembered her telling him where she was from. He seemed more relaxed than he had earlier. Maybe he'd just been in a bad mood. Or—be honest—maybe her own stress had led her to misread the situation, and the awkwardness was all on her.
Then and now.
Find the book up for pre-order at many booksellers, including:
Thanks for stopping by!