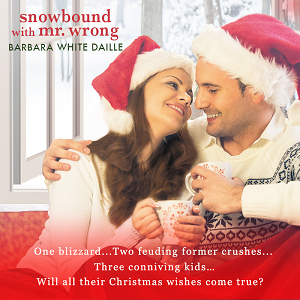 When the weather gets brutally hot, it's best to think cool thoughts. Here's a clip for you from one of my Christmas romances, Snowbound with Mr. Wrong:
She couldn't take a chance on getting hurt again. She couldn't let herself get close to Nick at all.
Although she had no idea how to avoid that if they were snowbound in the lodge together.
A little shiver ran through her, one she knew she couldn't blame on the cold. Despite everything that had happened—or not happened—between them, she couldn't forget the way she had felt about him. The way he had made her feel.
No matter how little time they might be forced to stay here, she knew it would be more than she wanted to bear.
A clip from the cover:
Worst. Day. Ever. After Lyssa Barnett's sister tricks her into reprising her role at Snowflake Valley's annual children's party, she doesn't think anything can be worse than squeezing into her too-small elf costume. Then tall, dark, and way too handsome Nick Tavlock shows up to play Santa…and an unexpected storm leaves them snowbound in the isolated lodge.
For more info:
Find the book listed at many of your favorite e-tailers here.
Enjoy your day – and keep cool! 🙂