For this Snippet Sunday, we're taking a look at The Cowboy's Triple Surprise, which you can now find on sale for a limited time: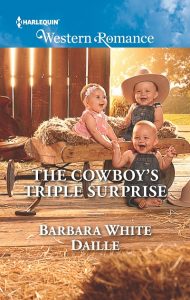 Tyler gestured toward the vases lined up on the table. "Looks like this is going to be one big wedding."
He stood facing Shay, but Tina answered instead. "The biggest we've had here yet," she said emphatically.
He knew she was the financial genius in the family. "The thought of all that income must make your accountant's heart beat faster."
She laughed. "You must have heard that phrase from Cole."
"I did." He looked at Shay. Another, more intimate memory of them together flashed into his mind. "What makes your heart speed up?" he blurted.
"Heartburn," she said flatly.
He blinked. Maybe that was a symptom of pregnancy. Or maybe she was just pulling his leg.
The Cowboy's Triple Surprise
Now only $1.99 for your ereader
(for a limited time) at many major retailers, including:
Amazon https://www.amazon.com/Cowboys-Triple-Surprise-Hitching-Hotel-ebook/dp/B01HB74HZ8
Harlequin http://www.harlequin.com/storeitem.html?iid=69250
iBooks https://itunes.apple.com/do/book/the-cowboys-triple-surprise-the-hitching-post-hotel-book-5/id1213316829?l=en&mt=11
B&N https://www.barnesandnoble.com/w/the-cowboys-triple-surprise-barbara-white-daille/1123951436?ean=9781488010668