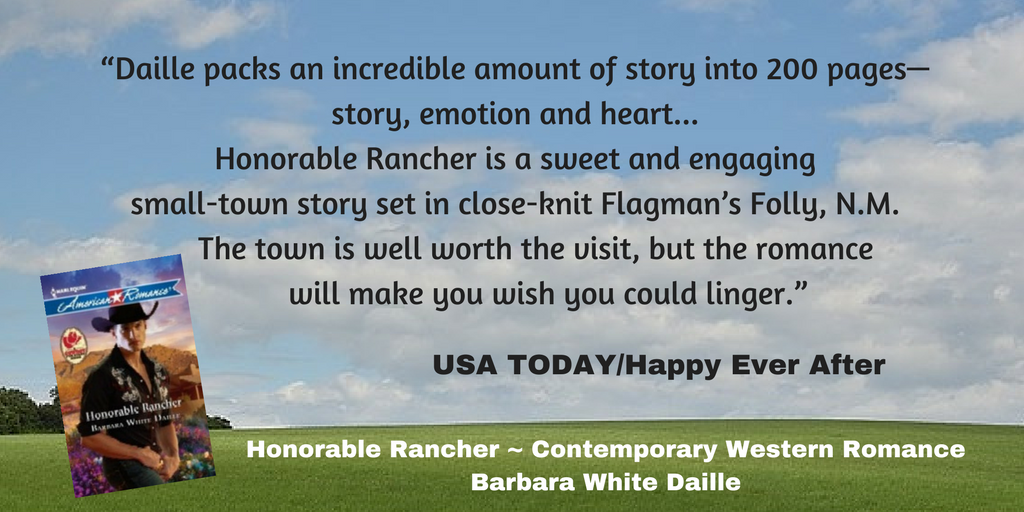 Here's a quick snippet from the opening of Honorable Rancher:
Always a bridesmaid, never a bride.
Ben Sawyer had heard folks say that of some women. Not the one standing on the far side of the banquet hall from him, though. The one who'd done her best all day to avoid him.
Dana Wright had once worn a long white gown and walked down the aisle to meet her groom. He should know, as he'd stood up near the altar holding the ring his best friend would slip onto her finger.
Now, if the saying held true for the male side of a wedding party, he surely fit the bill.
Always a groomsman, never a groom.
Always losing out.
From the cover of Honorable Rancher:
A Best Friend's Vow
The hero of Flagman's Folly has been gone more than a year. But he still stands between Ben Sawyer and what he desires most—Dana Wright, the love of Ben's life.
When soldier Paul Wright left for the last time, he made his best friend promise to look after his wife and kids. Ben—good, steady Ben—is honoring that promise. And it's burning him up inside.
Because Dana is shutting Ben out. She wants him—so much—but she can't afford to give in. If she does, she'll spill her secret, and the betrayal will hurt everyone she cares about—her children, who loved their daddy; her town, which loves its hero; and Ben, who loved his friend. She'll do anything to protect her secret—even give up her second chance at happiness.
Find Honorable Rancher at many of your favorite online booksellers:
Amazon https://www.amazon.com/Honorable-Rancher-Barbara-White-Daille-ebook/dp/B00835RNFE
Barnes & Noble http://www.barnesandnoble.com/w/honorable-rancher-barbara-white-daille/1109150556?ean=9781459235342
Harlequin https://www.harlequin.com/shop/books/9781459235342_honorable-rancher.html