The price of peace #SnippetSunday #FathersDay2021 #contemporary #romance #MFRWorg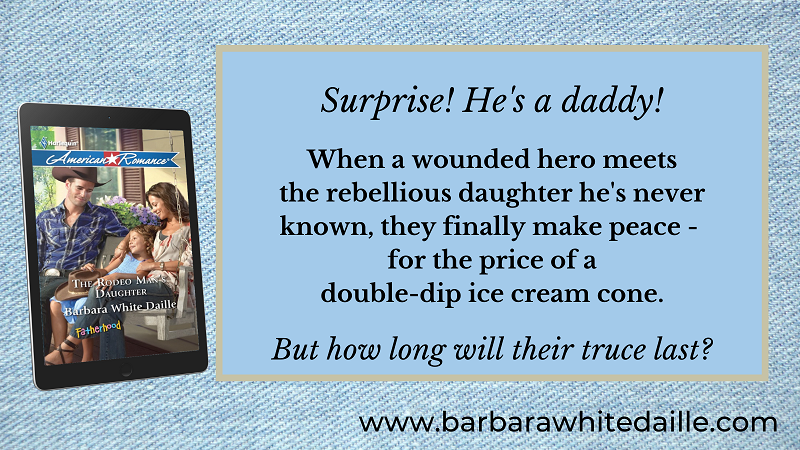 Happy Father's Day to each and every dad and all those who fill this important role in someone's life!
In honor of the day, we're taking a peek at a very special dad, the hero of The Rodeo Man's Daughter.
Rodeo star Caleb Cantrell never learns he's a daddy until his only child is nine years old. Needless to say, at first he and his rambunctious daughter, Nate, get off to a rocky start. But not for nothing is Caleb the hero of this story. 🙂
Caleb looked over at Nate again. They'd made peace on Signal Street during the Fourth of July parade. For the price of a double-dip ice cream cone.
Well, a sort of peace, and probably as close as they could have come then. But he continued to work at it and had felt gratified to see he'd made real progress.
Every day, he managed some time alone with her. Nothing special, just having her help while he made his repairs. Playing cards and checkers after supper. Relaxing with her outside, where he took his usual seat here on the swing and she settled onto her favorite spot on the step.
"You want grape or lime?" she asked, holding up a couple of wrapped candies.
"Lime." He pretended not to notice her relief. He'd already figured out she liked the grape-flavored best.
She got up to give him his candy, then returned to her seat. "Gram sure has lots of stuff for you to do around here."
He nodded. "She sure does. Good thing I have a great assistant."
She gave him a smile. She hadn't warmed up to him enough to reach her previous level yet. Maybe she never would. Fine by him—he didn't want the hero worship, the adoration, the crush. What he did want…he had no right to expect.
Plenty of times, he'd found her eyeing him like she'd been trying to figure out what made him tick. She sat watching him that way now. He waited, knowing that sooner or later she'd come out with whatever she had on her mind.
The Rodeo Man's Daughter
When Caleb Cantrell left home, he never thought he'd return as a wealthy rodeo star. Then an accident destroyed his career—and nearly ended his life. So Caleb goes back to Flagman's Folly, New Mexico, and his high school sweetheart, Tess LaSalle. But a ten-year-old secret stands between them, one that could hurt everyone Tess loves, especially her daughter…their daughter.
A few of the places you can find The Rodeo Man's Daughter:
Amazon
http://bit.ly/TRMD-Amazon
Barnes & Noble
http://www.barnesandnoble.com/w/the-rodeo-mans-daughter-barbara-white-daille/1105027958
Harlequin
https://www.harlequin.com/shop/books/9781459221062_the-rodeo-mans-daughter.html
Happy Father's Day!