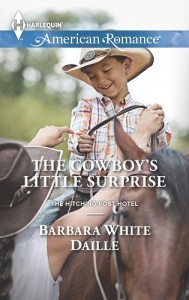 Today we're going back to the first book in the Hitching Post Hotel series so you can see why it all began! The following clip is from the prologue of The Cowboy's Little Surprise. Matchmaker Jed shares his thoughts with his hotel cook and longtime friend, Paz (who also happens to have a granddaughter in common with him):
"You know, Mary and I always thought we'd have our kids around us, if not on the ranch, then at least settled somewhere within hailing distance of Cowboy Creek. And we'd expected to see all the grandkids growing up in the area."
"Yes, I know. But the girls plan to visit. You can spend time with them soon."
"A week? Two weeks? That's not enough." He slapped his palm on the table. "And if the granddaughters I've got are all I'm going to have—well, I'll learn to live with that. But they need to get busy and give us more great-grandkids. Heck, they all need to get married. Besides…"
Frowning, he resettled the napkin beneath the cutlery at his place.
After a long moment, he muttered, "I don't like seeing my girls unhappy."
Find The Cowboy's Little Surprise here:
Amazon     Barnes & Noble     Books-a-Million
Thanks for stopping by the blog!