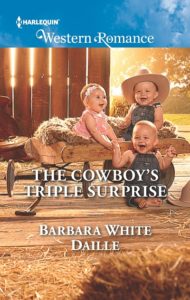 Today's Snippet Sunday is a very brief clip from The Cowboy's Triple Surprise:
After lunch, Shay hurried out of the dining room as quickly as she could, wanting to put distance between herself and Tyler. She gave a shuddering sigh and rested her hands on the small folding table she had set up near the entrance to the banquet room. The short walk here had left her unsteady on her feet, but for once she couldn't blame her shaky balance on the extra weight from her pregnancy.
She had never expected to see Tyler Buckham again, not after he'd left so many months before.
Eight months before. But who was counting?
Find the book at any major bookseller.
Amazon   Barnes & Noble   Books-A-Million
Harlequin   IndieBound   Kobo