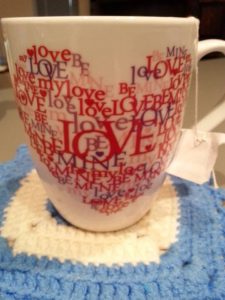 DH (dear husband) left a surprise on the counter for me this morning on his way out to work:  tea, freshly made, in a mug he'd given me as a gift a while back.
He's definitely sending me a message, don't you think?
Either he's sharing how he feels about me, or he's telling me to get to work. Or maybe both. LOL
You see, tea is my drink of choice. There's always a mug of it on the desk beside me when I start work, and DH knows today is kicking off an especially busy week.
For those of you who've asked for more stories of matchmaking Grandpa Jed and his family in Cowboy Creek, that's exactly what I'm writing now. As I'm on deadline with the book, I seriously need to pile up the pages!
Do you think I should expect a motivational mug of tea from DH every morning? 😉
And while I'm busy writing all week, what will you be up to?