Readers – please help me welcome Janet Lane-Walters to the blog. Janet is sharing an excerpt from her paranormal romance, Whispers from Yesteryear.  She's also giving away a print copy of one of her available backlist books to one lucky person who leaves a comment below!
Here's the excerpt: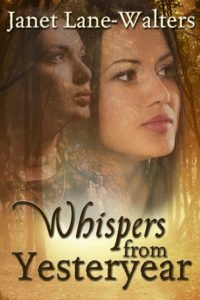 "Not the children!"
Willow Carey jerked into a sitting position. Her heart thudded in her chest. Waves of terror flooded her thoughts. She gulped deep breaths of air.
She stared at the familiar surroundings and wondered why the bedroom seemed alien. Like a shroud, the sheet had twisted around her legs. She tugged it free. Her sleep shirt, soaked with perspiration, clung to her skin. She shook her head to dislodge the fragments of the nightmare that had awakened her. Terror, grief and rage had followed her into consciousness. What? Why?
Once her heart rate slowed, she reached for the alarm clock. Too late to go back to sleep and too early to get ready for work. As the effects of the adrenaline rush faded, her sense of uneasiness grew.
She hugged her knees. Once again, she had failed but she couldn't remember who or how.
As she made the bed, she recalled the first time she'd dreamed. She'd been sixteen. She and her twin had been at Indian's Sorrow visiting their aunt. Willow had always loved staying there. This time had been different. One memory lodged in her thoughts.
"Willow, come here. This is so neat." Brooke had opened the gate at the side of the garden.
Willow halted at the opening. She looked beyond her sister. "Get away from the edge."
That night she'd dreamed. Terror had slid insidious fingers of fear into her sleep. When the summer had ended, she'd been happy to go home.
Until her aunt's death, she hadn't gone back. Then she learned the house and the land were hers, not a legacy to be shared with her twin.
Brooke had been furious. She'd accused Willow of taking advantage of their aunt. Since that day, their relationship had been strained. Brooke's coldness had hurt.
Willow sighed. The land was hers but she'd lost her sister.
Was her twin all right? She used to know when Brooke was in trouble, but the connection they'd shared had vanished. Willow tore her thoughts from the void left by the rift.
By six fifteen, she was ready for work. She put a bright yellow smock embroidered with Native American symbols over her white uniform. The children loved to trace the lines and learn the meanings. So did she. Her apartment reflected her interest in that part of her heritage.
She paused to study the portrait Brooke had painted of the Three Sisters — Corn, Squash and Beans. Though Willow had posed for the picture, her twin could have painted herself. Long black hair, warm brown eyes, cheekbones that added a hint of the exotic. Mirrors on the outside but opposites inside.
A sliver of the nightmare slid into focus. Brooke screamed. As though touched by a blast of frigid air, Willow rubbed her arms. What did it mean? Was Brooke in danger? She searched but the bond remained closed.
A persistent question nagged. What did the dream mean?
She tucked a pouch containing a Kelly clamp, bandage scissors and pens in her pocket. With a stethoscope draped around her neck, she headed across the street to West End Hospital where she worked as a pediatric nurse.
About the Author: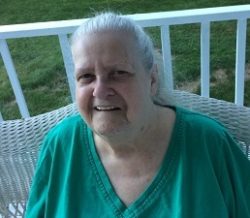 Janet Lane Walters was born in Wilkensburg, Pa July 17, 1936 reported to be the hottest day of the summer. She has been a published author since 1968 beginning with short stories and moving into novels when an editor told her a short story sounded like a synopsis for a novel. In the 1970s and 1980s she published 4 sweet nurse romance novels. Then she returned to school to earn a BS in Nursing and a BA in English. Returning to work as a nurse to help put four children through college she put her writing career on hold. In 1993 she retired from nursing and began writing again. A new nurse romance followed in print. Then she discovered electronic publishing and since 1998 has been electronically published.
Janet calls herself an eclectic writer since she moved from genre to genre. There are mysteries featuring Katherine Miller a former nurse who seems to stumble over bodies wherever she goes. Using her interest in Astrology, she has several series that use Astrology as a premise for the stories. Once she earned enough money to travel to Ireland by casting charts for people. She has many books in the romance genre, some of them are contemporary and are nurse romance, others fall into the fantasy or paranormal forms of romance. Interested in reincarnation, she has used this as a jumping point for at least two novels. Two of her novels deal with alternate worlds using a love affair with Ancient Egypt.
Under her other name J.L. Walters she has written a YA fantasy series called Affinities. She has also written a non-fiction book when her co-author Jane Toombs that won the EPIC Award in 2003 for best Non-fiction. During her career she has received other awards and has a number of great reviews.
Besides her four adult children, she has seven grandchildren. Five of them are the models for the YA series. The other two arrived too late to play a large role in the series. Four of her grandchildren are bi-racial and 3 are Chinese so the eclectic even invades her family. She has been married to the same man for more than 50 years. He's a psychiatrist who refuses to cure her obsession for writing.
Find Janet and her books online:
https://www.facebook.com/janet.l.walters.3?v=wall&story_fbid=113639528680724
http://wwweclecticwriter.blogspot.com
http://www.bwlpublishing.ca/authors/lane-walters-janet-romance-fantasy-usa/
Janet – thanks so much for sharing the excerpt with us today.
Readers – don't forget to leave a comment for a chance to win one of Janet's backlist books! The giveaway is open to US and Canada mailing addresses and closes at midnight US Eastern time on Sunday, October 15th.