A little problem… #MFRWHooks #romance #mustread #amreading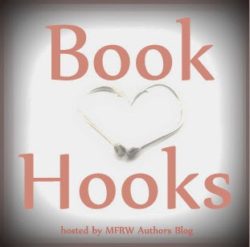 This week's Book Hooks post comes from The Cowboy's Triple Surprise, a standalone book in my Hitching Post Hotel series.
FYI, the Book Hook below immediately follows this past Sunday's Snippet, in case you want to read that first without any spoilers here. 🙂
From the book's back cover:
A BIG SURPRISE—TIMES THREE!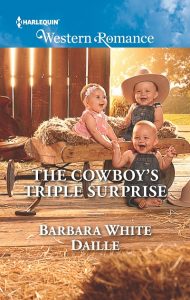 The last time rodeo cowboy Tyler Buckham was in Cowboy Creek, he spent a steamy night with local beauty Shay O'Neill. Back in town for a quick visit, he's hoping they'll have another go-around before he heads for his next rodeo. But seeing Shay pregnant—with triplets!—leaves Tyler feeling as if his best horse has kicked him in the gut.
Shay swore she wouldn't fall for an unreliable cowboy, and Tyler's playboy past makes him even less likely to settle down. The whole town conspires to push them together, and Tyler insists he wants to do his duty by Shay and the triplets, but Shay knows she can't count on promises from a cowboy. Besides, Tyler never once mentioned the word love…
Today's Hook:
"This worker is due for a break, too," she said, bracing her hands on the table. She seemed to have trouble pushing herself to her feet. Afraid she might overbalance and fall over the chair, Tyler held it steady for her just as he'd done in the dining room after lunch. And just like then, she gave him a curt, dismissive nod. "Tina, I'm going for a walk. I'll be back in a few minutes."
"Good idea," he said. "I feel the need to stretch my legs, too."
Her eyes narrowed. "You're not—"
"—thinking of leaving us, are you?" Tina finished. "Tyler, I'm surprised at you. We've still got so many tables to set up."
"We certainly do," Jane said. "And we've run into a little problem over there." She pointed to the far side of the room. She raised her brows.
Tina smiled.
Shay turned and left the room.
Shrugging, he followed Jane across the banquet hall. He'd been roped into helping again, and danged if he could think of a single good excuse that would cut him loose.
The Cowboy's Triple Surprise
is now on sale for $1.99!
Many etailers – including those below –
should be holding this price through the end of the week.
Amazon https://www.amazon.com/Cowboys-Triple-Surprise-Hitching-Hotel-ebook/dp/B01HB74HZ8
Harlequin http://www.harlequin.com/storeitem.html?iid=69250
B&N https://www.barnesandnoble.com/w/the-cowboys-triple-surprise-barbara-white-daille/1123951436?ean=9781488010668
And here's the link to the the list of authors participating in this week's Book Hooks:
Powered by Linky Tools
Click here to view this Linky Tools list…