Attention #Romance #Readers! Mother's Day 3-in-1 #Giveaway
This giveaway is now closed.
Thanks to all who entered.
Happy reading, always!
Happy Mother's Day to all who are moms – or are honoring moms – this weekend. As we all know, that includes stepmoms, grandmas, aunts, and anyone who fills this very special role in our lives.
My mom is no longer with us, but she's always in my heart.
To honor her and celebrate the day, I'm giving away some of my backlist books that feature heroines who are mothers.  And you do not need to be a mom to win!
For all the details, please read through to the end of this post.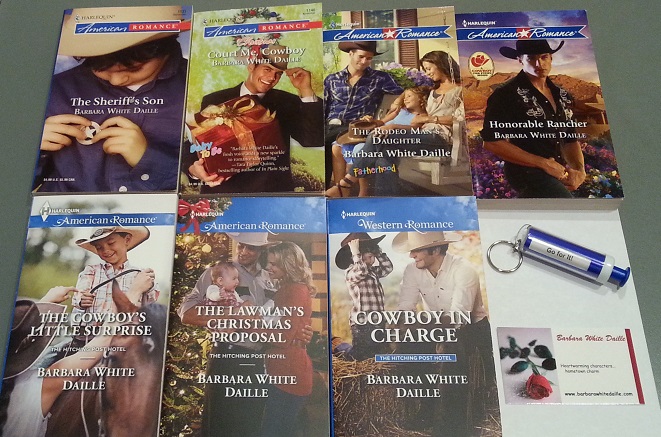 The giveaway is a 3-in-1 because one winner has his/her choice of three of the books above, along with the highly coveted "Best Swag Ever" key ring. A bit like the old "Magic 8 Ball," the key ring gives answers to all your questions. 🙂 It's been one of my best-loved reader gifts and is now in very limited supply!
To enter the giveaway:
Send a quick e-mail to me using the Contact form here at my website (See the "Contact" button at the top of this blog page) and tell me…why you like romance or how you're celebrating Mother's Day or whatever you'd like to share. Also let me know if you've done any of the options below.
The e-mail mentioned above is required to enter the giveaway.

Since 3 is our "magic" number for this giveaway,
here are three additional, optional chances to win:
Share the post from May 9 on my Facebook Author Page

Sign up for my newsletter

using the Newsletter form at the top of this blog/wesbsite page
This giveaway is open to US/Canada mailing addresses and closes at midnight CST Monday, May 15. The winner will be contacted through e-mail by May 17 and will have until midnight CST May 20 to respond.
Good luck!