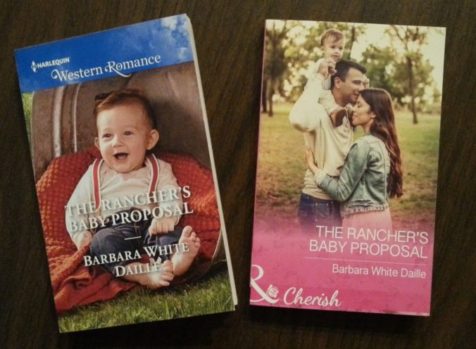 Publishers – traditional or independent – know how important a book cover can be. They also know that different covers can appeal to a different readership. That's why each publisher tries very hard to find just the right elements to interest their audience.
And that's also why the book above is available from my publisher with two covers.
The book on the left is the US edition of my Hitching Post Hotel story, The Rancher's Baby Proposal. On the right is the one that came out in the UK.
Same story inside, but they look so different on the outside, don't they?
Sometimes the blurb on the back of the book is tailored to different audiences, too. In this case, the UK version is only slightly different from the US version.
~ ~ ~
From the (US) cover of
The Rancher's Baby Proposal
HER SECRET COWBOY CRUSH
Ally Martinez has always been known as a fun and flirty kind of gal.  But deep down she's never forgotten the cowboy who left town. When her crush Reagan Chase comes home after a five-year absence, Ally knows this is her big chance. The guy I've always wanted. Only Reagan has something different in mind…
Still reeling from his last relationship, Reagan needs a babysitter for his month-old son. With Ally's help, he can get his family's ranch ready for sale and get out of Cowboy Creek. The problem? Ally is one seriously cute distraction. But Reagan will do whatever it takes to keep his heart safe. Even if it means losing the only place—and the only woman—he can call home.
Amazon US  http://bit.ly/trbp517
Amazon UK  http://bit.ly/2rbpmbz
Mills & Boon UK  http://bit.ly/2rbpmbu