Multiple vacation stops today #SnowflakeValley #sweetromance #MFRWauthor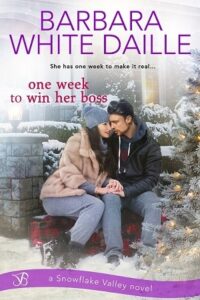 Our virtual holiday travels wrap up in a few more days.  Today, we're stopping at several sites, each sharing different peeks at my contemporary romance, One Week to Win Her Boss.
First, we're headed off to visit Australian Contemporary Romance author Iris Blobel, who finds inspiration for her settings in her home country and beyond.
In the excerpt:  Our heroine, Amber, finds her close-knit family getting way too close to discovering her secret crush.
Next, we'll be at the site of Adriana Kraft, a duo with a long list of steamy, sensual books to their shared writing name.
And the excerpt:  not steamy but smile-worthy, I hope!
Today's final visit will be at the web home of Lisabet Sarai, also an author of hot, sensual stories.  And as she says in her welcome, "you might find anything here."
In this excerpt:  Again, not steamy – but Amber and her boss are definitely starting to feel a little heat.
Have fun checking out the clips and the sites.  And thanks for making this trip with me!