I'm currently in Disney World at the Romance Writers of America conference (more on that below). Today I'm reprising one of my long ago Wednesday Wisdom posts. But as you will see, it's perfect for this week!
~ ~ ~
One of the reasons I started this Wednesday Wisdom column was to share positive reinforcement—with my readers and myself.
Positivity starts in our thoughts and words and, carried through to our actions, can help us achieve our dreams.
Here's a quote I love from a man whose name you might recognize: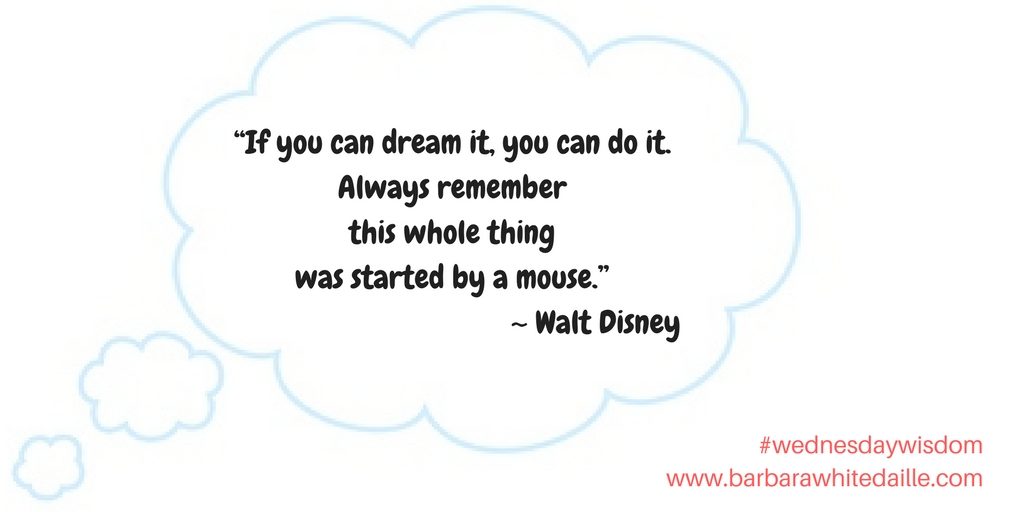 "If you can dream it, you can do it.
Always remember
this whole thing
was started by a mouse."
~ Walt Disney
Just think of the empire Walt Disney built and all the people whose lives his work still touches today.
That's what I hope to do with my stories—to touch a heart. To bring on a tear or a smile. To make life brighter for folks for a few hours. To be a mouse, one book at a time.
If we believe Walt Disney, all I need is to keep dreaming.
What have you always wanted to do? Are you there yet? Are you still pursuing that goal?
Are you remembering to dream?
~ ~ ~
Here are the Disney details: Every year at their conference, Romance Writers of America hosts the "Readers for Life" Literacy Autographing, all proceeds of which are donated to literacy organizations. This year they are supporting ProLiteracy and the Florida Literacy Coalition. Come see me and 400 other authors on July 29 from 3-5 p.m. at the Orlando Walt Disney World Dolphin Resort to help support this important cause. Admission is free! Link for a full list of authors: www.rwa.org/literacy. Note: the page shows me listed with the W's, but I've been told I'm seated alphabetically with the D's. 🙂 
If you're attending the conference or are in the area this Saturday, I would love to see you!