He just wanted to be left alone #oneweektowinherboss #mustread #newrelease #TeaserTuesday #MFRWauthor
Teaser Tuesday time! This is from my new release, One Week to Win Her Boss, and follows directly after the snippet posted on Sunday.  Here's today's short clip:
"No worries, boss." There she went again, lying on Christmas Day. But what choice did she have? "Anything you can dish out, I can handle."
He laughed. "Good to know." Backing up a step, he looked at the house again. "The porch has been swept, too. You and the baby get in out of the cold. I'll go park this thing."
She nodded. As she reached the top of the steps, the SUV eased away.
"What a Christmas this is going to be," she said to Penny. "Spending the day here with Grandma and Grandpa and everybody, pretending I'm actually dating my boss. And then going back home… I mean, going back to the lodge to spend Christmas night with Scrooge." More than that, she and Penny would spend days living with a man who didn't like crying babies and wanted to be left alone.
Not the best omens for their temporary living arrangement…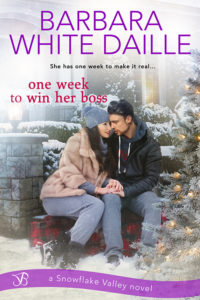 Entangled     Amazon
Amazon Australia     Amazon UK
Amazon Canada
Barnes & Noble
Apple iBooks     Kobo
Thanks for stopping by to visit the blog!