She'd have no use for him. #TeaserTuesday #holidayromance #cleanromance @entangledpub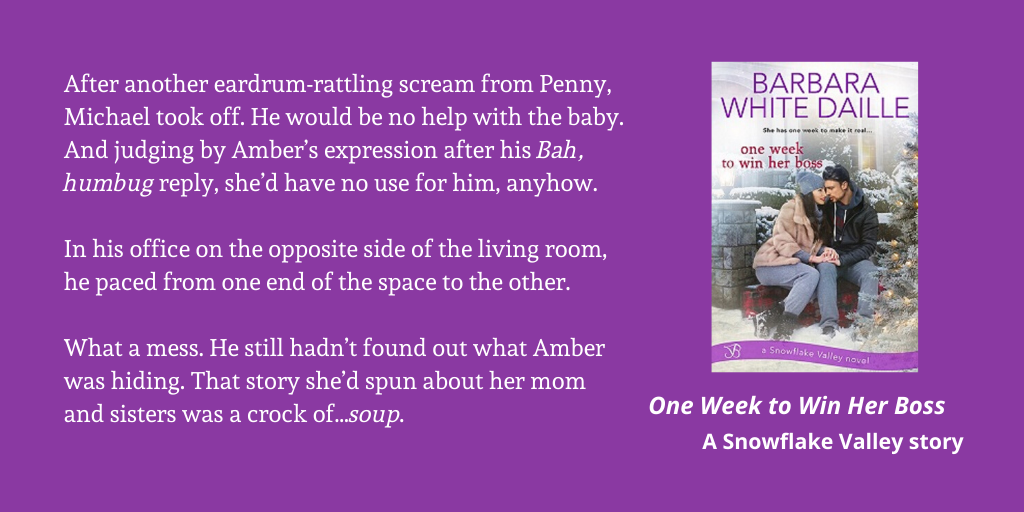 Halloween's right around the corner, kicking off my favorite time of year. The holiday stories I've written are some of my faves, too. Below is a clip from One Week to Win Her Boss, set in the small town of Snowflake Valley, where the residents celebrate Christmas 365 days a year.
After another eardrum-rattling scream from Penny, Michael took off. He would be no help with the baby. And judging by Amber's expression after his Bah, humbug reply, she'd have no use for him, anyhow.
In his office on the opposite side of the living room, he paced from one end of the space to the other.
What a mess. He still hadn't found out what Amber was hiding. That story she'd spun about her mom and sisters was a crock of…soup.
And he'd sure dropped the ball last night. He should have told her she would have to find somewhere else to stay as of today. Instead, he had relented at the sound of despair in her voice. Despair she probably thought she had successfully hidden from him.
He heard her soft voice as she tried to soothe the baby. Penny continued to screech at regular intervals.
Colic. Chronic. Poor kid.
The cries grew louder. Amber had moved to stand near the Christmas tree. Swaying slightly, she patted the baby's back.
The twinkling lights reflected in Amber's long, silky hair. She was a head shorter than he was, slim, young, looking barely old enough to be a mom. Of course, he knew she was older than she appeared. Her resume had listed the year she finished high school. A half-dozen years after his own graduation. Not long enough to matter, but he'd grabbed onto the fact to add to his growing list of reasons to keep his distance.
From the back cover of One Week to Win Her Boss:
Single mom Amber Barnett loves family, kids, Christmas…and unfortunately, her boss, confirmed bachelor Michael DeFranco. It's a crush she really needs to get over. Except, when she's temporarily forced from her apartment, her only option is to stay at Michael's private ski lodge, where she's the housekeeper. No problem. Her handsome boss rarely visits Snowflake Valley unexpectedly, plus he's spending the holidays with his family. Or so she thinks…
A stormy Christmas Eve reunion leaves Michael seeking the solitude of his lodge, where he finds Amber in residence—and in trouble. Attempting to save her from her matchmaking family, he announces they're a couple. His good deed backfires when they're instantly included in each and every holiday event in town. So much for solitude.
Only the more time he spends with the beautiful, cheery brunette, the more he yearns to make things real between them. But he and Amber want different things, and Michael could never be the family man she's looking for.
For more info and/or to order:
Entangled:  http://bit.ly/owep2l85mN
Amazon:  http://bit.ly/ow2l9Detp
Thanks for visiting the blog!