Lots going on in my writing world today! My latest book, The Cowboy's Triple Surprise, came out in e-book format last week and now has debuted in print.
The book is in the Spotlight tonight at the A Taste of Romance Book Club. If you're on Facebook, plan to stop by. We'll be having fun chatting about books and book boyfriends and more. You do not need to join the Book Club, only to sign up for the Event.  (Although definitely check out the club, as they're a great group.)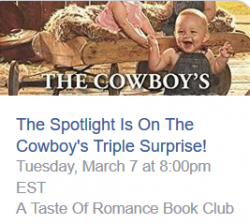 Sign up for the Spotlight Event!
Also on Facebook today, author Tawny Weber is hosting a giveaway to celebrate the book release!
If you're on Facebook,
visit her author page
for three chances to win.
And last but not least, here's your Teaser Tuesday. It's in a little different format than usual, as I've been learning to play with some new computer programs. 🙂