She couldn't trust her judgment around men #sweetromance #99cents #ebooksale #SnippetSunday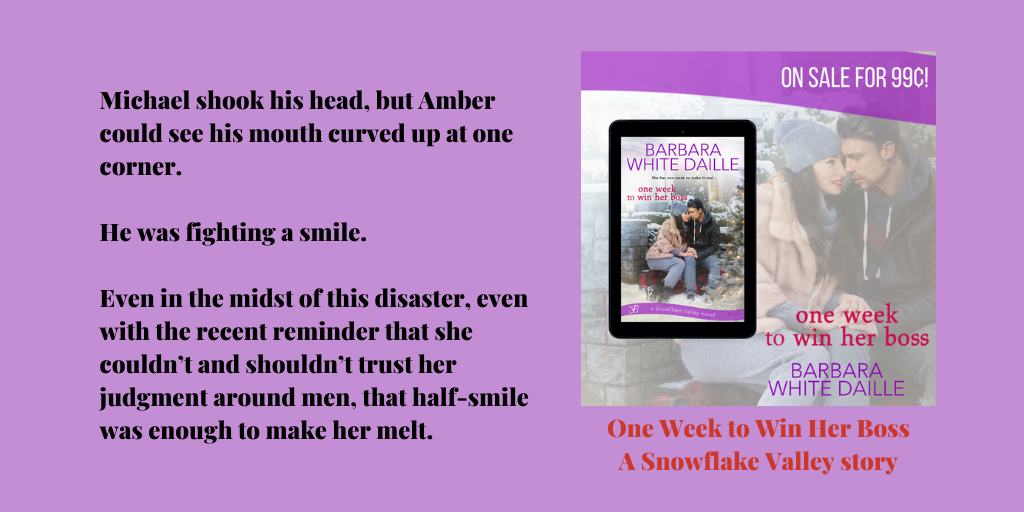 Good news: my publisher is celebrating the upcoming holidays with a special 99-cent sale on One Week to Win Her Boss. If you haven't yet picked up this fun, sweet romance set in Snowflake Valley, now's a good time to check it out! You can find the ebook at the etailers listed below.
And here's your snippet:
Michael shook his head, but Amber could see his mouth curved up at one corner.
He was fighting a smile.
Even in the midst of this disaster, even with the recent reminder that she couldn't and shouldn't trust her judgment around men, that half-smile was enough to make her melt.
One Week to Win Her Boss
When Amber is temporarily forced from her apartment, her only option is to stay at her boss's private lodge, where she's the housekeeper. A stormy family reunion leaves Michael seeking the solitude of his lodge, where he finds Amber in residence—and in trouble. Attempting to save her from her matchmaking family, he announces they're a couple. His good deed backfires when they're instantly included in every holiday event in town. So much for solitude.
E-book 99 cents
Entangled  https://entangledpublishing.com/one-week-to-win-her-boss.html
Amazon  https://www.amazon.com/dp/B076PJ7SNN
Amazon Canada  https://www.amazon.ca/dp/B076PJ7SNN
Barnes & Noble https://www.barnesandnoble.com/w/books/1127274067
Apple iBooks  https://itunes.apple.com/us/book/one-week-to-win-her-boss/id1299758237
GooglePlay
https://play.google.com/store/books/details/Barbara_White_Daille_One_Week_to_Win_Her_Boss?id=r_86DwAAQBAJ
Kobo   https://www.kobo.com/us/en/ebook/one-week-to-win-her-boss
Officially this sale is through November 18th, but individual etailers may modify their dates, so check the price before you one-click. I hope you enjoy Amber and Michael's story!