This child couldn't be his #MustRead #sweetromance #FathersDay2020 #MFRWauthor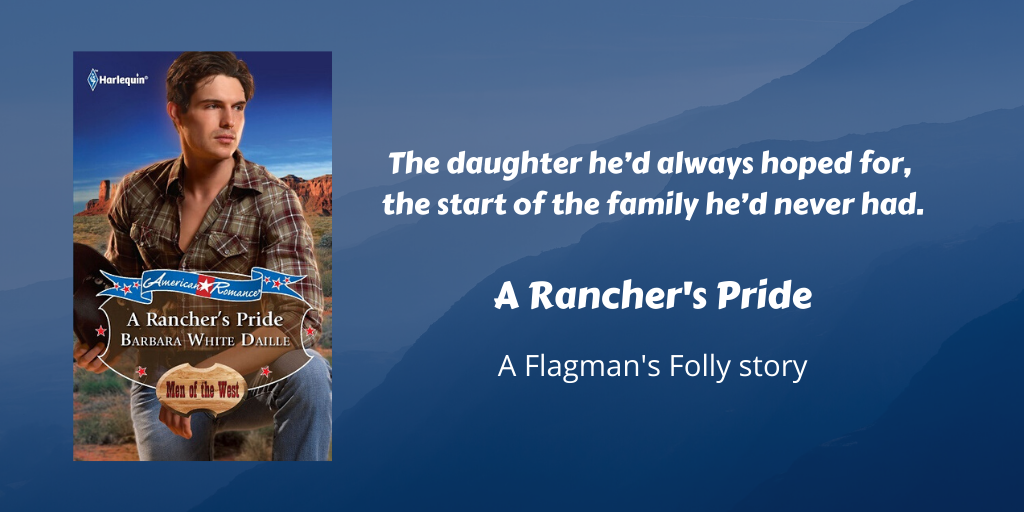 Happy Father's Day to all the dads, grandpas, stepdads, and any person who fills that very special role in someone's life.
In honor of the day, I'm sharing a Snippet Sunday peek at one of my fictional fathers, Sam Robertson from A Rancher's Pride. In this clip, Sam has just now learned he's the daddy of a child he never knew existed:
Everything looked familiar, except the child sitting on one of the couches.
A beautiful little girl.
The daughter he'd always hoped for, the start of the family he'd never had.
He shook his head.  Pipe dreams, for sure.  Ronnie had never told a true story in her life.  This child couldn't be his.
She wore a blue T-shirt, white shorts, and denim sneakers.  In her arms, she cradled a stuffed tiger.  A couple of dolls rested on the couch alongside her.
As he moved another step into the room, she looked up.
Small and blonde, just as Sharleen had said.  And more.
The girl's eyes shone in the light from the table lamp beside the couch.  Silver-gray eyes surrounded by dark lashes, a perfect match to his own.
His throat tightened.  He felt frozen in place.
She gave him a shy smile.
He'd seen that half-twisted grin in plenty of his own childhood pictures.  Not impossible after all.  The child was his.
About the book:
Sam Robertson's life just changed. In one short day, he found out that he's a daddy; that his beautiful little girl, Becky, is deaf; and that her aunt, sign language teacher Kayla Ward, intends to fight him for custody.
There are plenty of reasons Sam shouldn't fall for Kayla. A city girl like her has no place on his ranch, particularly when she's his ex-wife's gorgeous sister. But thanks to the judge's orders, Sam's spending a lot of time with Kayla, trying to give Becky the stable home she's never known.
Despite their ongoing custody battle, Sam and Kayla's love for Becky brings them closer than they ever expected, and Sam knows that no matter who wins in court, he could still lose—Kayla or his daughter.
Find A Rancher's Pride:
Amazon  http://bit.ly/Amazon-ARanchersPride-BarbaraWhiteDaille
B&N  http://bit.ly/BN-ARanchersPride-BarbaraWhiteDaille
Harlequin  http://bit.ly/Harlequin-ARanchersPride-BarbaraWhiteDaille
Books-A-Million  http://bit.ly/BAM-ARanchersPride-BarbaraWhiteDaille
Kobo  http://bit.ly/Kobo-ARanchersPride-BarbaraWhiteDaille
Happy Father's Day!
Stay safe and well!