Can she put her fears aside to help the rancher's family? #SnippetSunday #contemporarywestern #cleanromance #booklovers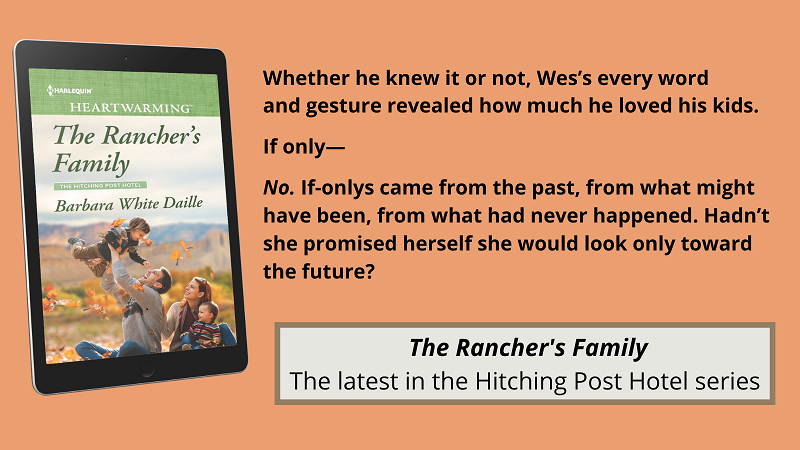 Hope you're having a good day, whether you're reading this on Sunday or another day of the week!
If you haven't visited the Hitching Post Hotel yet, here's a clip from The Rancher's Family, the latest book in the series:
Whether he knew it or not, Wes's every word and gesture revealed how much he loved his kids.
If only—
No. If-onlys came from the past, from what might have been, from what had never happened. Hadn't she promised herself she would look only toward the future?
From the cover:
"Are you my new mommy?"
She certainly hopes so…
After a devastating loss, Cara Leonetti's dreams of a husband and children are on hold. But Cowboy Creek's local matchmaker thinks otherwise! And Cara finds herself unexpectedly entangled in the day-to-day family chaos of widower Wes Daniels and his two small children. She's falling hard, but the strong, silent rancher doesn't trust in love. Can Cara put her own fears aside and show Wes that they're stronger together?
Spoiler alert (but since this is a romance, maybe not so much of a surprise! 🙂 ):
All my books, even in series, stand alone with the hero and heroine of each finding happy-ever-after by the end of their story.
And here are some of the places you can find The Rancher's Family:
Amazon http://bit.ly/Amazon-TheRanchersFamily-BarbaraWhiteDaille
B&N http://bit.ly/BN-TheRanchersFamily-BarbaraWhiteDaille
BAM http://bit.ly/BAM-TheRanchersFamily-BarbaraWhiteDaille
Harlequin http://bit.ly/Harlequin-TheRanchersFamily-BarbaraWhiteDaille
Kobo http://bit.ly/Kobo-TheRanchersFamily-BarbaraWhiteDaille
Have a great week!