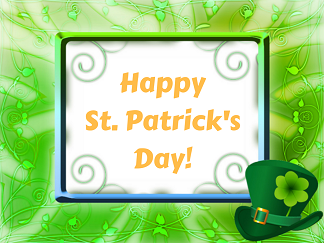 Whether or not you're Irish, I hope you celebrate some of the traditions of St. Patrick's Day, from drinking green beer to eating a corned beef and cabbage dinner to the wearing o' the green!
And I hope you'll drop by to visit a couple of my guest blog posts.
First, I'm at Alicia Dean's blog, where she's hosting three authors in a fun game and giving away a $25 Amazon gift card. Click here for more details.
I'm also visiting the Cowboy Kisses blog, where I'm sharing an excerpt from my brand-new release, The Cowboy's Triple Surprise, and where we're talking cowboy heroes. Stop by to say howdy.
And if you'd like to know more about the new book, check any of your favorite booksellers.
Amazon   Barnes & Noble   Books-A-Million
Harlequin   IndieBound   Kobo